O Lord my God,
When I in awesome wonder
Consider all the world
Thy hand hath made,
I see the stars,
I hear the rolling thunder,
Thy power throughout
the universe displayed,
source
Then sings my soul,
My Savior God, to Thee,
How great Thou art!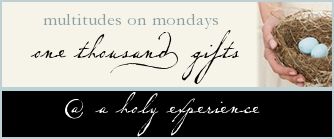 Continuing to count blessings....
138. The love, support, and prayers of family and friends.
139. Always enough to share with others.
140. The soft, wispy, fluffiness of a freshly bathed and brushed poodle.
142. The wonder of being able to have fresh fruits and vegetables in the winter.
143. Good that comes out of the bad.
144. Biscuits and gravy for a winter's supper.
145. A husband who is still my best-friend.