It's one of those days.
You know the kind....
....maybe not as often as you should
(I don't)
but you know them.
Those days when your eyes spring open
and from the first
deep breath of dawn spreading in your lungs
you know the day is different.
There's no particular reason for it that you can put your finger on,
but you know.....
because you
feel
it in your heart.
The sky is a little bluer.
Your toils are easier.
Smiles are more precious.
Goodwill spills from your heart,
so full it cannot be contained.
It is, simply, a great day to be alive.
Oh, friends....every day should be like that.
Every day can be like that
if we walk closely with the Lord
and let his Holy Spirit fill us
with the joy of heaven promised.
The Psalmist knew this feeling when he wrote:
Shout for joy to the Lord, all the earth.
Worship the Lord with gladness;
come before him with joyful songs.
Know that the Lord is God.
It is he who made us, and we are his;
we are his people, the sheep of his pasture.
Enter his gates with thanksgiving
and his courts with praise;
give thanks to him and praise his name.
For the Lord is good and his love
endures forever; his faithfulness
continues through all the generations.
~ Psalm 100
Relationship with the Lord is the key. It's not enough
to know about him, we must know him. Intimately.
Like Adam and Eve walking with him in the garden.
Talk to God. That's all prayer is. A conversation.
Get to know him. Tell him your concerns.
Listen to what he has to say. Don't be afraid
to share it all with him....he already knows it.
THANK HIM FOR EVERYTHING.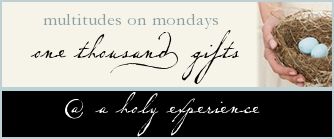 344. Thieves who stole only a 12 ft. section of copper pipe when they
broke into the church and ignored the thousands of dollars
worth of tools laying all over the place and did no damage.
345. A goodbye hug from Mom that actually felt....okay and not
extremely awkward and uncomfortable. Progress.
346. A good first day at my summer job. The camp staff is very nice
and the kids are great.
347. A 72-passenger bus filled with kids singing Bible verses.
348. A cloudy sky that is keeping a cap on the heat for one more day.
349. A puppy that sleeps through the night and does (most of)
her business outside.
350. Early, cool mornings in the mountains of Pennsylvania.
351. A pool that is finally cleaned and ready to go.
352. Marshmallows toasted in a backyard bonfire.
353. A granddaughter on the phone, excitedly yelling "IT'S NANNY!"