I love my neighbor. Just seeing him makes me smile. When I turn down our street and ease to a stop at the sign next to his house, my eyes automatically sweep across his yard looking to see if he's there.
Am I contemplating an affair? Ha, ha....NO! Mr. P has to be close to 80 years old and truth be told he looks a lot more like a garden gnome than a heart-throb.....a little stooped, bald, browned and wrinkly from the sun.
What Mr. P does have is an inner light, a pure joy in living, that shines bright as any beacon in the night.
Mr. P was completely devoted to his wife. She had a lot of health problems and couldn't get around much for years before her death a couple of years ago. Still, Mr. P would get her out to the swing he'd hung from the frame of an old metal swing set. She would sit there while he worked in the yard or the garden. Neighbors and grandkids would gather round to visit and Mr. P would stop and sit with her for a while every now and then. In the evenings the two of them would sit on the porch watching people out on their nightly walks and call out greetings to them. Some would stop to visit for a while.
For a while there, as Mrs. P's health got worse and worse, we didn't see much of Mr. P. He was dedicated to caring for his wife which meant, as she grew unable to get outside, that he remained inside close to her.
When she died, a lot of people thought Mr. P would quickly follow. It was thought that he'd be broken-hearted, lost, adrift....clueless as to how to go on without his life's companion. A lot of people were wrong. Mr. P has not only gone on living...he's enjoying it...and he's sharing it.
Two of our other neighbors are women, maybe a few years younger than Mr. P, but they, too, have lost their spouses. One's husband has been gone for a very long time...maybe 25 years. He had a heart attack and left her alone in middle age and alone is how she has stayed all these years, always seeming so sad and lonely. The other lost her husband just three years ago this month. He had grown more and more depressed following the death of their youngest son in a car accident and had turned to alcohol for solace. A quiet Sunday afternoon in the neighborhood was shattered when he walked into the house, lay down on the bed and put a pistol to his head. That neighbor had to endure not only the pain of her husband's choice, but the violent anger of her remaining son at his father, and a daughter, who with ugly, hateful words blamed her in front of all the gathered friends and relatives.
After Mrs. P passed on, a funny thing happened. I'd see Mr. P sitting in the yard talking to the one or sitting on the porch in the evening with the other. There's no romance there. Just people finding comfort in the company of someone else who's experienced the same kind of loss. Mr. P has drawn the lonely woman out and I'll see her talking more with the other neighbors now. As for the second woman, I'll drive by and see her smiling and laughing and looking happy...something she hadn't been in years.
And Mr. P? I like it best when I see him alone, sitting on the swing where he'd spent so many hours with his wife. You see when he's on that swing I'm pretty sure he's getting a peek at heaven. His legs swing back and forth pumping the swing in wide arcs and his face is tilted to the sky and that smile.....he literally shines with joy.
I want to be like Mr. P. I want to climb on that swing in the garden, throw back my head, pump my legs, and fly fearlessly into the sky, letting the joy wash over me like the cool evening breeze.
"For you make me glad by your deeds, O Lord;
I sing for joy at the works of your hands."
~Psalm 92:4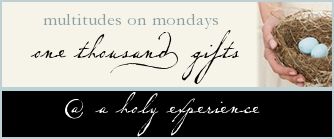 373. Contentment and peace woven into the minutes of the weekend.
374. Answered prayers, both big and small.
375. Little puppy noses buried in the grass with bright teasing eyes
peering up and saying, "Play with me!"
376. Blueberry season.
377. Lunch with an aunt and seldom seen cousin.
378. The garden at night...lightning bugs flickering in the shadows,
the splash of water in the fish pond, the cackle of a neighbor's
chickens, and this week...the boom of fireworks in the sky.
379. That when I am tempted to bemoan my condition, You
show me clearly that I have it so very good compared to
most of Your children in this world and even those close to home.
380. The patience You show me when I fail the same way
over and over again, despite knowing better.
381. For giving me the right Word when I need it.
382. Husbands who deny even liking "ugly little sissy dogs"
but go to the pet store with you and pick out PINK crates
for the little sissy dog they're too often caught holding.