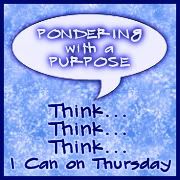 I'm back from my self-imposed semi-hiatus, which means it's time to blog. It's Thursday, which means it's time for
Pondering with a Purpose.
I don't know if Brenda and the gang missed me, but I've missed them.
Pondering
is one of my favorite weekly memes.
To refresh your memory (and mine), the way this works is that Brenda gives us a prompt and we (the bloggers) expound on it in any way we want to....photos, poetry, whatever. Then we grab the link badge (that pretty blue box over there on the left) and leave the link to our post over on Brenda's site. Pretty simple. If you want to read the other posts or have the urge to join in simply click on the button or the links above. Brenda has all the rules spelled out for you on her site. Now, on with the pondering!
This week's prompt:
Independence
Are you independent or do you lean on other people for your basic needs?
For the most part, I'd have to say I'm independent. I was certainly raised to be. There was no coddling in our household growing up. There were chores to do and homework to be done and there certainly wasn't anyone who was going to do them for me. I was given an alarm clock at age 8 and I've gotten myself up in the mornings ever since. At about the same time I started putting myself to bed without hugs and tuck-ins. I was an only child in often isolated areas so I learned to amuse myself. Unlike so many kids today, my parents were not there to keep me entertained. I developed an imagination and sense of adventure. I did and still do things that tend to surprise people. I'm not afraid to strike out on my own or try something new. I hope I never lose that.
But then there is another side of me. I am a Christian and as such I am supposed to be dependent on God for all my needs. I struggle with that sometimes, with the asking him what his will is. I tend to want to charge right out there and "git 'r done!" I also struggle with God being all I need to be satisfied. I guess that might be the "bad" side of the above coin. All that hands-off parenting has left me a bit insecure on some level. I want everyone to like me. I will do just about anything to avoid conflict. The idea of someone finding me to be lacking makes me feel sick. I guess I'm still seeking the love I didn't get and sometimes I expect a lot more from people than they can give and it causes problems. I'm working on allowing God's love and acceptance to be enough.