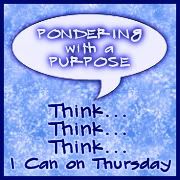 Joining in with Brenda @
Ponderings of an Author
for this week's installment of
Pondering with a Purpose,
the blog hop where Brenda offers a weekly prompt to inspire us to share on the topic via stories, poetry, photographs...or whatever. Some weeks it's light and fluffy. Some weeks, not so much. This is one of those not so much weeks.
This week's prompt:
Loss
Everyone suffers losses. It's an inescapable part of life. Some suffer more than others. Some suffer so much you can't understand how they don't collapse under the weight of it all. Some do collapse or "snap" as the news tells us all too often. Some losses are small and merely annoying. Some losses are monumental and catalysts for change.
When I started thinking back over my life I was actually surprised by how many things I considered losses. I lost my dad to cancer, my grandfather to an aneurysm, my grandmother to old age, a dear uncle to Parkinson's disease..... When I was 14 and in 9th grade I lost two friends when a helicopter crashed into the crowd at a church festival. When my dad was fired from the wildlife preserve he managed I lost my favorite place on Earth. I've lost my innocence (not talking about virginity here), my temper, my security, my faith, and from time to time my mind.
I would have to say, though, that my biggest loss, the one that impacted my life the most and changed it and me the most, would have to be when we left a church about 10 years ago. Tim and I were both leaders and involved up to our eyeballs in nearly every activity. Tim and one of his sisters had had a falling out that put us on the fringes (at best) of the family. In the wake of that we had made our friends at the church our family and loved them and clung to them fiercely. So when church politics raised its ugly head as it so often does, we were unprepared for it. I had all my ministries stripped away one at a time by an angry pastor and the worst was the feeling of being thrown to the wolves or simply abandoned by those we loved and trusted.
In the months that followed our ordeal I went through what I can only compare to what someone who has been in a cult or held hostage must go through. Nothing in my life has ever been as painful. I felt broken, stripped, laid out raw and bare. Anger alternated with depression. Confusion reigned over all. It took years to muddle through the mess in my heart and head. To this day nearly everything I think still runs through the filter of what happened and it colors the way I see the world.