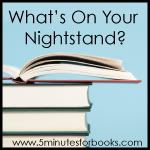 My bloggy friend,
Dawn
, has been doing this blog hop about books for a while now. I did a post myself a year or so ago. Today, I realized for the first time that it actually is a blog hop and not just something Dawn does to share her current reads. So, yea!, now I have something to blog about the fourth Tuesday of every month.
(One day down and 30 to go!)
My actual stack, isn't really a stack. I've been getting into using my Nook lately. Please excuse the sideways pictures...one thing I've never mastered is how to turn pictures on Blogger. If I turn them elsewhere and then post them they seem to turn right back, anyway.
This is my Nook closed. I love the thick black leather
cover that protects it. It is embossed with the names of
some of the best writers ever to put pen to paper.
This is my Nook. Hard to believe I'm supposed to be able
to store upwards of 2000 books in there!
I just finished reading
Term Limits
by Vince Flynn. Woohoo! High octane conspiracy/spy/thriller stuff. My favorite kind of fiction. I read it for a book club I belong to on Facebook.
I'm currently reading
It Happens Every Spring
by Catherine Palmer and Gary Chapman and
Writing to God: 40 Days of Praying with my Pen
by Rachel G. Hackenberg. I probably wouldn't have picked
It Happens Every Spring
to buy, but it was a free Nook deal found through
BookBub
and it's turned out to be pretty good. I'm hooked on the characters in the little resort town and I want to know what happens next.
Writing to God
I am doing along with Dawn and a few others. Tomorrow is hook-up day for that if you're interested.
And in the yet to read catagory:
So.....what's on your nightstand?