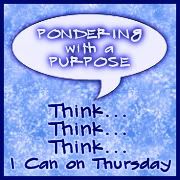 I thought maybe it would be a day without a ponder given Brenda's recent blog issues, but I checked and low and behold, there she is! She's got a new address, but everything else is pretty much the same. Hooray! We're glad you got things worked out and are back among us, Brenda. If you'd like to ponder with us or just want to check out other entries the button will take you to the new site. So, with all that settled....let's get down to some
Pondering with a Purpose!
This week's prompt:
flexible
If you are talking about flexibility as the ability to adapt to change, hey, I am all up on that! When you live in a household where everyone has varying degrees of Attention Deficit Disorder you absotively, posilutely
have
to be able to go with the flow. If you don't, you will snap and rigidly trying to stick with anything is nothing more than an exercise in frustration. I'm not saying that I don't try to hold on to something once in a while, but for the most part I just go with the flow, roll down the windows, and enjoy the ride.
On the other hand, if you're talking about physical flexibility, eh....not so much. The older I get, the more I sound like a bowl of breakfast cereal as I crawl out of bed in the morning. I bought one of those "As Seen on TV" Fluidity Bars last year. It looked to be a fairly gentle form of exercise with lots of stretching, but that was misleading. I was grunting and sweating like an Olympic weightlifter by the halfway mark of the workout routine. Fluid, I am not.
Just for kicks, here are some pictures of yesterday's snow.....
And then there's this picture of our Beagle/Basset mix (hey, we got a little bored).....