I've kept my promise, to you and myself. I began reading
Ann Voskamp
's book
One Thousand Gifts
this weekend. Ann spoke at
Relevant '11
. No, she did more than that. When she opened her lips, the words that came softly, drifting down on the audience like flakes of snow, pure and sparkling, were like manna from heaven feeding and refreshing tired, starving souls.
The woman has the most grace-filled way of speaking and writing. Each word is like a brushstroke from a master's hand, slowly building and filling in the picture that most of us don't have the artist's eye to see. As beautiful as her words are, though, they pale beside her message. A message of a life lived fully in holy joy through thanksgiving....and doesn't that just make me sit up a little straighter and pay attention, when that is exactly what this blog is meant to be about!
There is something about Ann's story that resonates deep within the soul of each person who reads it. I only made it to page 27 before something struck me, cutting me so sharply, so deeply, that a sob escaped and tears ran down my face:
"I wake to self-hatred. To the wrestle to get it all done, the relentless anxiety that I am failing. Always, the failing. I yell at children, fester with bitterness, forget doctor appointments, lose library books, live selfishly, skip prayer, complain, go to bed too late, neglect cleaning the toilets. I live tired. Afraid. Anxious. Weary. Years, I feel it in the veins, the pulsing of ruptured hopes. Would I ever be enough, find enough, do enough?"
Holy crow! It was like looking in a mirror for the first time and being shocked because all this time you thought you looked pretty good, but really your hair is sticking up, you've got dirt on your face, broccoli stuck in your teeth, and well, you're just kind of goofy looking to begin with.....and yet, you don't doubt the mirror image is you. You recognize yourself.
This journey that Ann writes about. The one that doesn't
go
anywhere. The one that happens right here. Right now. This one that teaches thankfulness that leads to living a full life. This is the abundant life I seek. The life Jesus came to give.
I am not yet, even half through the book, but I'm going to begin to join in each week with those who link up to
Ann's blog
every Monday to share the things they find to be thankful for in this moment. This right now.
And so my list of 1000 sweet blessings begins:
1. The soft "swoowsh...swoowsh...swooswsh" of a whisk mixing cake batter in a green bowl.
2. The lights on the Christmas tree that twinkle like stars in the sky if I squinch up my eyes just right when I look at them.
3. The poodle who flops against my chest, gazes adoringly up at me, turns his tiny paw to cling to me, and heaves a mighty, contented sigh.
4. A husband who can fix anything.
5. Cold, late-Fall Sundays with not much else to do but simply enjoy the day and the people.
6. A sudden memory of Nana. Kind, loving, ever patient, nature-loving, and always my champion.
7. Peppermint tea....warm and soothing on a throat thinking about being sore.
8. The hour of twilight when the sun grows dim and the shadows lengthen.
9. Steamy, savory, homemade chicken noodle soup.
10. Yankee Candles in scents so delicious you want to lick the jar.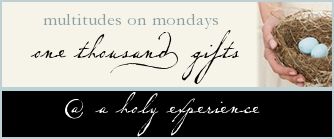 r