It's a beautiful Monday following a beautiful weekend and I am feeling blessed by this journey to become the woman described in Titus 2:3-5.
I have spent the past two weeks focusing on the call to be "reverent" found in verse 3. As a reminder...
Reverent means holy, sacred or what is fitting and appropriate. It describes that which is consecrated to God. Consecrated means dedicated or set apart for a specific purpose. My life, then, is to be dedicated to God, set apart for the specific purpose of doing what is fitting and appropriate to please God, to bring me into closer relationship with him, and to be an example that leads others.
The days have been filled with prayer, study, praises, and reflection.
As I purposefully choose to act in ways that honor God, I am aware of Him, acting in my life more and more. The focus is on what is true, what is pure, what is good. The focus is on God the Father, God the Son, and God the Spirit.
What the focus is not on, is me.
Several times I have wanted to react to a situation, but I was stayed by a voice or a hand on the shoulder that begged me to pause and consider if it would bring God glory. What message would it send to others that know I call myself a Christian? On second thought, the gut reaction was rarely the path to follow.
I am not always at the point of making the godly choice first. I hope to get there one day, but it is good that I'm learning to stop and ask God first. Oh, how I hope that this difference is apparent to the ones in my life.
In speaking to others or of others, I am striving to make every word sweet, encouraging and positive. I am working to make each word a building block rather than a sledge hammer. I'm trying to let God fill my speech even as He fills my heart.
Praise and worship has taken on a deeper connection. A connection that brings me to my knees, frees tears of joy that wash down my face, and begs me to reach out my arms to the Lord.
This call to reverence, then, is bringing me closer to the Father. It lets me know His heart. It lets me know He is here...with me...and He is strong and He is faithful. Even when I mess up.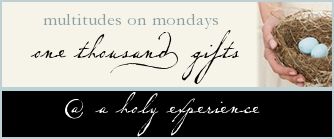 More Everyday Blessings....
132. Enough. When it's needed...just enough.
133. Bare tree-skeletons etched across a pink dawn.
134. Pink and red Valentine's M & M's.
135. Snow so cold it crunches underfoot.
136. The joy of a baby's smile.
137. Small, fuzzy heads nodding off on a big, strong shoulder.