Therefore we do not lose heart. Though outwardly we are wasting away, yet inwardly we are being renewed day by day. For our light and momentary troubles are achieving for us an eternal glory that far outweighs them all. So we fix our eyes not on what is seen, but on what is unseen. For what is seen is temporary, but what is unseen is eternal.
~ 2 Cor. 4:16-18
Day by day we go through this life, weary travelers in a hostile world.
Things go wrong. Enemies attack. Illness falls.
This life is too hard to carry on alone.
We forget. Even we who should know better.
We are not alone.
With us, around us, above us, and in us an army stands ready.
Father. Son. Holy Spirit. Heavenly Host.
The fight is not ours but theirs.
We have but to give it over to them.
Our "job" is to know the Truth, the holy Word of God.
To wrap ourselves in the protecting armor of it and stand fast.
In everything we do God is there.
Jesus saved us. The Holy Spirit guides us.
His angels protect and do battle over us.
We are loved and cherished children of the King.

He never takes his eyes off of us nor leaves us unprotected.
God is good ALL the time.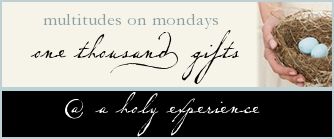 261. Your love, oh, Lord that never fails.
262. Your Word, that shows me how to be.
263. The sounds of a warm evening....the buzz of a lawnmower, neighbors talking over the fence, the whiz of bicycle tires flying by, children squealing on a trampoline, dogs barking at all the activity.
264. A good day with a difficult mother and the wisdom to know how to defuse her unkind comments without becoming unkind.
265. Prayers answered.
266. The delicious smell of a Yankee MacIntosh candle.
267. A day to do nothing but relax.
268. Mercies I don't deserve.
269. New friends.
270. A husband who supports all my dreams.