I had the bestest (bad grammar, I know, but it's what I mean) surprise last night when I got home from work. My son and granddaughter came for a visit! They came early enough that they went fishing with my mom and daughter for a while then we all hung out visiting while we waited for the hubby to get home. Once he got here we all (my mom and her husband, too) went out for supper. It was the best surprise I could have asked for. We hadn't seen our granddaughter since January and it was amazing to see how much she's grown. She's beautiful! And so full of life. It tickled me to no end when we were all saying our goodbyes and she pointed at me and said "And I love YOU!"
Ah, but you didn't come here to read about me being one of those grandmas (I'm still listening, Ellen) that gush, so here's the Follow Friday statements and my answers.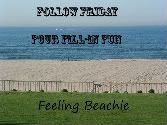 This week's statements:
1. I like to avoid ___ if possible
2. ___ is a virtue I do not have
3. Sometimes the _____________ are the ______________
4. I think that _____________ are the best _____________
My answers:
1. I like to avoid

conflict

if possible.
2.

Self-control

is a virtue I do not have.
3. Sometimes the

best things in life

are the

ones you couldn't see because you were busy wishing for something else.
4. I think that
books
are the best
entertainment.
I spent the morning digging in the dirt (yea!!) and planting the flowers I bought yesterday. I can't wait until Efran and Martha come next weekend to do the serious yard work. I am itching to be out enjoying my flower beds. Now it's time to find some lunch before I have to head back to work. So excited to be counting down the last days!
Happy Friday, everyone!