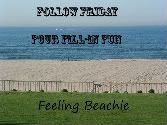 It's time for Follow Friday Four Fill-In Fun. This week's FFFFF is hosted (of course) by Hilary of
Feeling Beachie
and this week's co-host, Susi, from
Boca Frau
. Click the button or the links to find your way to all the rules and links to those participating this week. Come on and Follow...it's fun!
This week's statements:
2. I always ____ when I___
3. Reading ___ makes me ____
4. 4. I like to live _______ because _____
My answers:
1. In the summer
I go nuts over the abundance of fresh fruits and veggies.
2. I always
crank up the radio and sing
when I
drive to work.
3. Reading
the old books I buy at auctions and yard sales
makes me
understand what life used to be like.
4. I like to live
in the mountains of SW Pennsylvania
because
we have four distinct and beautiful seasons and we have it all....mountains, valleys, parks, hiking trails, lakes (and it isn't that far to the Great Lakes or the Atlantic), culture, history...