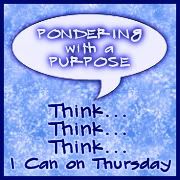 I'm joining up with Brenda and the gang for Pondering With A Purpose....which I
love!
I know Thursday is one day I'm not going to have to come up with a topic on my own and the way things have been going this week....that's a very good thing. You can click on the button over there to the left to visit Brenda's blog for the rules if you want to join in (Did I mention this is a blog hop kind of thing?) or to see the list of links to the other participants.
This week's prompt: Comfort Food
Wouldn't you know that the day I resolve to get really, really, really serious about this diet business (stocked up on veggies on the way home from work and I bought a little notebook last night that I am recording absolutely everything in....what I eat, when I eat, how I'm feeling at the time, any exercise, etc.) we have to bring up comfort food.
So, what is comfort food? The first thing that comes to mind is that it's usually really bad for you. It's a forbidden pleasure. Why? Because for most people I know, their comfort foods are fatty and rich or sugary or starchy. We like these foods because they act as a drug. They cause our bodies to release all those feel-good hormones. A good round of exercise will do that, too, but who'd rather do 10 miles on the treadmill than have Mom's pot roast with mashed potatoes and gravy? Seriously? Have you ever heard anyone say, "I am so stressed! Pass me the broccoli." And if anybody does....I think they're lying and that as soon as they get home alone they bust out the Ben & Jerry's.
Would you rather do this?
source
A lot of people associate comfort food with the foods their mom or grandma used to make. I don't really remember feeling that way about anything my family cooked when I was growing up, though my Nana's big country breakfasts with eggs fried in bacon drippings were pretty darn good. What I mostly remember reaching for and eating mindlessly was chips and Pepsi.
In college, sitting around the day after a party, nursing a hangover and rehashing the night with friends, it was Domino's Pizza all the way!
Throughout my 20s and 30s I couldn't get enough popcorn.
And now? I've discovered the heavenly bliss of zucchini fries with ranch dressing, though I wouldn't turn down chocolate, Chinese take-out, or any seafood, and I still like my salty carbs washed down with Pepsi or Coke.
Nobody in this house matches up on comfort foods so we can't even share. The hubber likes oatmeal (bleeech!) and cereal and ice cream. Our daughter likes pierogies and cheeseburger macaroni. It's been so long since our son lived at home I can't remember what his favorite comfort food was....the salty carbs, I think.
So, what's your comfort food?
If you say broccoli....I will hear nothing but Ben & Jerry's.