Ahhh, Friday morning...if you stand on your tippy-toes you can just see the weekend straight ahead. That means it's time to wrap up the week's fragements with
Mrs. 4444
and then have some Fill-In Fun with
Hilary
.
Hooray for puppy progress! Yesterday you could have packed for a European vacation in the bags under my eyes. Tim has been getting up at 3:00 to drive the hour (or more) to work and get things going early in an effort to beat some of the hideous heat and humidity we've been enduring this week. Mostly, the puppy sleeps through that. Yesterday she didn't. So, out we went. Which also meant so did the hound and my mom's schnauzer, who we are "baby-sitting" while they are away this week. Back in bed I tossed and turned and was still awake at 4:30. I fell asleep sometime after that but was plagued by weird dreams that left me feeling exhausted and then the puppy decided we really did need to start the day a little before 6:00. Today she wanted out at 4:30, but then went back to bed until 8:00! '

I am "grounded" today. Tim has something wrong with his truck that he needs to fix and he needs to change out a tire so he didn't want to drive his truck all that way to work on major highways. Smart man. So, since I don't have to work this morning he took my car. The only downside is that it will come back dirty (it's going to a construction site) and smelling like sweaty man (he's a man and it's hot outside). Anyway, stuck at home for the day means time to read and float in the pool and some much needed cleaning up around the house (if anyone needs confetti....I will rent you the puppy....any and all paper she gets hold of ends up as confetti).

Last week's rain combined with this week's heat has the weeds taking over in the garden. First it was too wet to get in there and work. Then it was too hot. I'd hoped to get in there today since the temperature is supposed to be about 10 degrees cooler. Unfortunately, the humidity is not down. It slams you and sucks the breath right out of you as soon as you walk out the door. I am hoping it eases up enough for me to get out there this evening. I want to get all the weeds cleared and then try something I've been reading about....soaking the ground thoroughly then covering it with a thick layer of newspapers and then soaking them. Mulch and grass clippings are placed on top of that. It's supposed to suppress the weeds for the entire season and the whole kit'n'kaboodle can then be tilled under in the fall. We tried plastic last year and it did keep the weeds down, but other than that we didn't like it at all.

Yesterday was the final day of the Friends of the Library's used book sale. The last day is $1/bag day. Since they'd refused non-fiction books this year, I didn't come away with quite as many books as usual, but I did net a hefty 21 books for my buck! Granted, several of them are the romances people at work like to read. I always pick up stuff I think will be good for sharing among the readers at work. I wonder if they've ever noticed that most of the "romances" I pick up are not of the bodice-ripping variety and that many, are, in fact, Christian? I also like to pick up unusual books during this part of the sale. I'm drawn to the unusual, but don't want to pay full price in case I hate it. Among the unusual this time is a collection of short stories about Wyoming and a book about the Amish tradition of rumpspringa.

Mom and her husband are due home on Sunday. His appointment at the cancer treatment center was yesterday. They didn't call to say how it had gone, but we expect to hear good news since some indicator number his regular doctor monitors keeps dropping. If the report is good, then he's hit 2-years cancer free! They were planning to stop by one of the big swamps (not sure which one) and try to get out on a boat cruise. Mom's hoping for one on an airboat! At any rate, their dog will be glad to see them. She does not like the puppy. No, she is terrified of the puppy and trembles in fear any time it gets near her. It cracks us up. She is known for killing squirrels and bunnies and she absolutely quivers with the desire to "hunt" down Megan's guinea pigs, but a 3 pound poodle terrifies her. I think it must be that she "knows" the puppy is different and that she will be in big trouble if she attacks her. She won't even warn the puppy off when she is sinking her little fangs into her leg. Even our hound, Elvis, who is easily the world's mellowest soul, will let her know when it hurts and that he's had enough.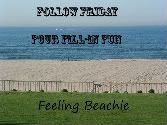 This week's statements:
2. If I could ____ anywhere I would ____
3. When I grow up, I want to ________
4. the best _________________ I ever ____________________
My answers:
1. I love a

good parade!

It's true. My dad loved parades and we never missed one, no matter how small. Our town has a huge parade on July 4 and the next town over has a huge on in the Fall along with the celebration of their fort and an arts and crafts festival. Unfortunately, I didn't marry a parade lover nor raise any parade lovers.
2. If I could

live

anywhere I would

live on the island of Chincoteague, VA.

We've been many times and it is the whole family's happy place. Tim admits he wouldn't mind a vacation home there, but he'd never move away from here permanently. Me? I love the Eastern Shore, the wild ponies, and the charm of the island.
3 When I grow up, I want to

finally know what I want to be and do with myself and be comfortable in my own skin.
4. The best

holidays

I ever

had where when my grandparents and my dad were still alive and all the family still lived within a couple of hours drive and we'd have 12-20 people for the holidays....without all the drama that seems to be there now.