Thanks to Brenda for another great subject to ponder.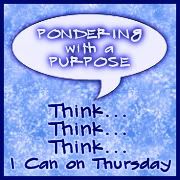 The rules are really easy:
1. Grab the Pondering with a Purpose Badge
2. Look at the week's prompt
3. Post something on your blog that relates to the prompt - it can be a story, a poem, a picture -- anything you want it to be.
4. Come back here and add the URL from your post to the linky list below.
5. Go check out the other bloggers who have added their links to the list.
6. AND most of all.... Have fun!
This week's prompt: Your Life-If you could start over, what would you be doing right now?
Ah......regrets. I've had a few. Who hasn't? It's easy to say don't regret anything because everything helped you get where you are now, but I think even the people who post that kind of thinking daily to their Facebook status have a regret or two lurking in the back of their anxiety closet. It's human nature to wish we could have a do-over on some things once we're down the road a bit and maybe older and wiser.
My big regret? College. I put in two years as a journalism major. I did well in those classes and the many English courses I chose to take, but otherwise....college was mainly about sowing my wild oats.
My dad was older and old-school. He was strict and a tough task master. I was not allowed out of my own yard after the streetlights came on (even in high school) unless he knew who I was with and for what purpose. Just hanging out didn't cut it...except with my best friend and believe me, I used that to my advantage. There definitely weren't any of the wild high school parties I heard about in my life.
I wasn't allowed to wear jeans anywhere other than hanging out at home, because Dad was of the last generation when ladies wore dresses in public and most of the time at home, too. Jeans, as far as he was concerned, weren't fit for anything but "shoveling manure in the barn." This was not a rule that sat well with a childhood that spanned the 60s, 70s and early 80s. I used to sneak jeans out of the house and change into them at school.
Dad expected absolute respect and obedience, good grades, and unquestionable character. I disappointed him a lot during my teenage years. I can look back and honestly say I was a pretty good kid (I played sports, belonged to the Civil Air Patrol, graduated with honors), but pretty good just wasn't good enough for him. If I made the honor roll, he'd just tell me if I'd worked harder I could have made high honors.
He never ever told me I did a good job or that he was proud of me.
So, enter my college years, which other than the classes in my major, pretty much became all about doing the things I thought I had been missing out on. I joined a sorority, partied 5 nights a week, dated frat guys, ran for student government.... I was on top of the world. Unfortunately, my grades were not. The good grades I got in my major weren't enough to keep my GPA from tanking. By the end of my sophomore year I was looking at starting my junior year on academic probation. It never got that far because Dad pulled the plug on the money. If I wanted to continue I was going to have to pay for it myself.
Fortunately (or unfortunately), Dad had made me get a job at the plant where he worked during Christmas break. I'd worked there during spring break and they were willing to take me on full-time. I'd met Tim at Christmas and we'd kind of hit it off but he was seeing someone. During spring break he was visiting his family in Florida to recuperate from an accident. When I came home for the summer I told my friends I was going to date him. I would have laughed if anyone had said I'd end up marrying him. I didn't plan on getting married before I was 30.
That's about when life said, "HA!" Within a few weeks we knew the relationship was for a lifetime. We (well, mostly me) talked about moving to the town where I went to college and getting a place together. Tim could work and I could keep going to school. The problem was Tim really didn't go for the whole "shacking up" thing. Next thing I knew I had a ring and was planning a wedding. We got married about 5 1/2 months after our first date.
We've been together 28 years at this point so obviously he was the right one and not a mistake as so many warned when we jumped into it so quickly. What was a mistake was not finishing school and getting my degree. At the time, I thought with all the "wisdom" of youth, that I could go back and finish any time. Yeah......about that. Life has a way of happening. Homes, cars, kids, bills, etc. There have been times over the years, too, when it would have been nice to have the income from a white-collar career job instead of the part-time jobs I've had. As I'm entering middle age and my kids are grown I also find myself wondering where I might be, what I might be doing if I'd gotten that degree. Not the world famous, globe-trotting reporter I dreamed of, but maybe an editor or writer for the local paper, or a magazine writer, or.....
So, if life gave me a do-over....
I'd still marry Tim, but not until after I finished school.