Here's the perfect song to listen to on a hot, sultry day while you're scrolling through the Fragments and Fill-Ins.
.
Thanks to Mrs. 4444 over at
Half-Past Kissin' Time
we bloggers can take a bit of a break from trying to be creative. She came up with the wonderful bloggy hop known as
Friday Fragments
so we can all do a bit of "housecleaning" so to speak, by sharing those little bits and pieces of life that maybe aren't enough to post alone. It's a great way to meet new bloggers and see what's going on with the ones you do know. Pop over to her site and follow the bloggy trail or why don't you join in the fun yourself?
So, like much of the country we are stuck in the heatwave. They are predicting 97 degrees today. The record is 98. I bet we match or beat it. You wouldn't think it, us being in the Allegheny Mountains and all, but we have humidity to rival the South a lot of the time in the summer so the heat index comes into play and that is expected to be well over 100 today. Blech. The pooches are pretty content to lie around in the air conditioning all day. Me, too, for that matter.

The women's group from the church I belong to is having a retreat tonight and tomorrow. We're going to be staying
here
. I'm really looking forward to it. My pastor and the woman who teaches the Bible study I go to are teaching the sessions. The theme is "Following in His Footsteps" and it's about getting closer to God or reconnecting with Him. I'm going this afternoon before everyone else to decorate. Using Footprints in the Sand as the general idea, I'll be using lots of beachy things. The only thing I'm not looking forward to is the sleeping arrangements....while the meeting rooms, chapel and diningroom are all air conditioned, the sleeping rooms are not. I guess they have ceiling fans. I think I will take another fan along just in case.

It is amazing how those cookies that companies plant on your computer when you visit their site work. I looked at cowboy boots on
Sheplers website
earlier this week and now it doesn't seem to matter where I go online, if there are ads in the sidebar...Sheplers is there. I find that kind of scary to be honest. It really drives home that Big Brother is watching.

I am more than a little nervous about leaving Miss Daisy in the care of Tim and Megan. Love them both and I know they both love my girl, but neither one is exactly known for being attentive to the needs of the animals. The big guy can kind of fend for himself, but Daisy's so little yet. At least I won't be gone more than 24 hours so she should survive. Hopefully they will clean up any messes so I don't have to come home to that.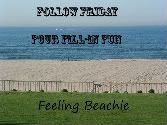 This week's statements:
2. I have had a lot of ___
3. Public speaking makes me__________.
4. My car always has_______because_______.
My answers:
1. I
never
wear
hats because I think I look stupid in them.
2. I have had a lot of
pets.
3. Public speaking makes me
want to hurl.
4. My car always has
a huge collection of CD's
because
I can't stand to drive without music on.
That's it for today. Have a great weekend! Stay inside and keep cool.
No Saturday Share tomorrow.