I run my hands over the cover, smell the earthy scent of its leather....
My soul seems to quiver in anticipation at the familiar bulk in my hands.
My fingers run down the side, skimming gold-edged tabs.
Genesis, the beginning; Psalms, the heart cries of kings; the Prophets,
the apostles, the letters of Paul, the Revelation of John.
Inside, smooth, cool pages, many highlighted, underlined, and written on....
(there might even be a smudge of chocolate from the cookie I ate)
my mother and my childhood Sunday School teachers would be shocked,
maybe even horrified at the "desecration."
But you see.....
"In the beginning was the Word, and the Word was with God,
and the Word was God. He was with God in the beginning."
~John 1:1-2
Jesus IS the Word. He was with God in the beginning.
He came to Earth and he spoke it so we could read it.
Every time I pick up my Bible.
Every.


Single.


Time.
I am holding Jesus in my hands!
To know him, truly know him...I must read.
I must spend time in the Word. I must study the Word.
I must make the Word my friend.
For the Word is him!
How great is the God who gave us everything we need
and all we need to know in one book...
one Son...
one Savior?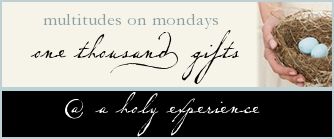 383. A retreat that refreshed and restored.
384. Your Word speaking to my heart.
385. A new cell phone after months without.
386. A break in the heat.
387. Christ-sisters who share their hearts.
388. A ray of sunlight in the early morning, cutting through pines
389. The big dog, with a yapping poodle pup hanging from his ear,
that shows me what patience should be like.
390. The prayers of friends that opened my eyes to truth.
391. The distant roll of thunder that promises rain.
392. The smile on a daughter's face.