I'm a little pressed for time today, but I want you to know I am thinking of you and this is my prayer for each one of you today...even those of you I haven't met.
*Borrowed from Paul, a prayer for the Ephesians...and
YOU.
"For this reason I kneel before the Father, from whom his whole family
in heaven and on earth derives its name. I pray that out of his glorious
riches he may strengthen you with power through his Spirit in your
inner being, so that Christ may dwell in your hearts through faith.
And I pray that you, being rooted and established in love, may have
power, together with all the saints, to grasp how wide and long and
high and deep is the love of Christ, and to know this love that
surpasses knowledge - that you may be filled to the measure
of all the fullness of God.
"Now to him who is able to do immeasurably more than all we ask
or imagine, according to his power that is at work within us, to
him be glory in the church and in Christ Jesus throughout
all generations, for ever and ever! Amen."
~Ephesians 3:14-21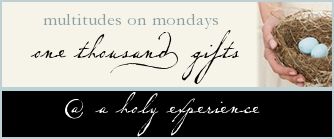 Counting with Ann and the others....
511. Words for a lesson that flow, not from me, but You.
512. A good night's sleep.
513. A day when the husband could sleep for hours and hours.
514. Roast turkey, stuffing, mashed potatoes, and gravy.
515. Leaves of red, yellow and orange glowing in the sunlight.
516. Great V's of geese flying overhead.
517. The dance of fallen leaves on the wind.
518. Every stinkbug that does not get in the house.
519. Being the shoulder for a friend to lean on.
520. Cold mornings snuggled with the dogs.