Sharing some pictures from yesterday's wonderful time with the family. Our son and his wife and baby, missed out on the excitement because of yucky weather (cold and rainy) and Matt's torn meniscus (ligament in the knee), but we visited with them before and after picking up our granddaughter.
The mug of my new favorite animal. I call him (her?)
Sheldon (as in Cooper).
Sora's very precise about things and it bothered her greatly
that her feet didn't reach the stirrups...we HAVE to go back
again when she is tall enough that they do. Which will probably
be next year at the rate she's growing. Look at her now...
and she's only 3!!!
Pappy and the kids.
Playing coy at the pumpkin patch.
She's started sucking her thumb since the baby does.
Bringing them in, fresh from the pumpkin patch.
On the hayride with Aunt Megan and Cody.
Megan, Cody, Sora, and Nanny's take on The Three Little Pigs.
Climbing the pumpkin pile.
Did I mention how much I loved this critter?
Look at those eyelashes!!
Tim feeding the baby zebra.
Cody (having "fun") and Megan in the petting zoo.
The poor boy just had his wisdom teeth out and wasn't
at 100%. He will probably never go anywhere with us again.
Adorable little donkeys about 2 seconds before they turned tail and
nearly kicked Sora in the face. Bad little donkeys.
Taking Aunt Megan for a ride in the rain.
Joining with Ann and the others....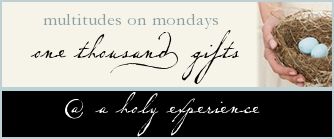 531. That our son is getting the best orthopedic care in the area for his knee...the same doctors who treat Pittsburgh's pro athletes.
532. Giggles and squeals and mile-wide smiles and childish wonder.
533. A few hours of fun for the husband.
534. Baby camels!
535. Rainy fall days.
536. A steaming mug of pumpkin spice tea.
537. A baby shower to celebrate life's continuing.
538. New friends.
539. A short work week.
540. A peaceful transition to the puppy sleeping in the bed.