Anyone crazy enough to be out there?
***********
Time for a little Follow Friday Four Fill-In Fun with Hillary and this week's cohost, Pam.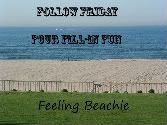 This week's prompts:
1. I put ___ on a hot dog
2. when it___ I ____
3. If my house____then I would be able to___
4. If I was getting married tomorrow I would _______________ differently so we could ________________differently
now.
My answers:
1. I put

ketchup (spelled that way...I am a Heinz girl) and nothing else

on a hotdog.
2. When it

snows

I

like to stay inside with the pellet stove fired up, something yummy in the oven, my dogs curled up, and a good book.
3. If my house

was bigger

then I would be able to

entertain the way I'd like to.
4. If I was getting married tomorrow I would

probably do just about everything (hey, it was the 80s and I was only 20....I'm smarter now and styles have definitely changed)

differently so we could

hopefully do some things

differently now.
***********
I hope you all have a wonderful day doing whatever it is you do on this day after Thanksgiving. Me? I'm going to be trying to get a repair man to come fix my washing machine that picked yesterday to breakdown. Then tonight I'm getting together with some high school classmates. This is our 30 year reunion weekend. I can't go to the dinner tomorrow but am meeting with some tonight for a pizza and beer type get together. We will be celebrating for sure, but also marking with sadness a classmate lost to cancer just this week.