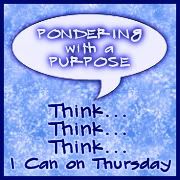 Time to join up with Brenda and everyone else who's participating for
Pondering with a Purpose.
Each week Brenda posts a prompt and we have our way with it, so to speak. You never know what you might find....fiction, poems, true-life experiences, photographs.... You really should join in, but even if you don't want to write, click the button to the left and spend some time reading. It's a lot of fun.
This week's prompt is:
Killing time.
My first thought was
"Are you kidding me????"
We've already established here that I'm pretty sure I have attention deficit disorder, so my attention span for things requiring focus is about the same length as a gnat's eyelash. Oh, and I might have a teensy-weensy, itty-bitty, hardly worth mentioning problem with procrastination.
My second thought was
"Honey, I am THE QUEEN of killing time."
I've already made writing this post take half an hour and it's not even done.
How do I do it, you ask? You know.....I really don't know. It's just a gift and comes effortlessly. Unless, of course, I actually
need
to kill some time. Then time will crawl and I will get antsy and have no clue what to do with myself. But put a task in front of me and the hours melt away effortlessly to the point where I find myself in a stress-filled panic to finish the job.
Facebook, by the way, is the best (worst?) time killer I've found. Don't tell them I said that, though, okay? That socially challenged, nerd-boy, genius who created it would probably revoke my account and then what would I do???? Ack! I'd have to do what I've been supposed to be doing all along.
N-o-oo-ooooooo!
~~~~~~~~~~~~~~~~~~~~~~~~~~~~~~~~~~~~~~~~
And now because so many asked yesterday (Okay, maybe 3 or 4 people), here is the recipe for my Nana's corn spoonbread.
1 box Jiffy corn muffin mix
2 eggs, beaten
1 can whole kernel corn, drained
1 can cream style corn
1 cup sour cream
1/2 cup melted butter
1/3 tsp salt
1/4 tsp pepper
1 Tbsp sugar
Grated parmesan cheese, to taste
Preheat oven to 350 degrees.
Spray a 2-quart casserole with Pam.
In a bowl, combine all the ingredients but the muffin mix. Stir to mix. Add muffin mix. Stir well.
Pour into casserole dish and bake for 45 minutes. Remove.
Sprinkle with cheese. Return to oven and bake an additional 15 minutes or until center is firm.