And it begins....the Christmas crunch! From here on out it is pretty much all about getting my act together. A long list awaits....shopping, wrapping, cooking, baking, parties, church, time with family and friends, etc., etc., etc. Don't let me kid you, though. I LOVE IT! Today I am sporting this hat on the bus
and it will be seen around town as I go run my errands in just a while. Hey, I'm not too excited about that part, but I've had it on all morning which means I've got hat-hair going on so the hat stays for the duration.

Going shopping for some candy making supplies this morning. I'm thinking I will make the bus kids chocolate covered pretzel rods this year rather than bake them cookies. I was also thinking of asking a couple of the young moms at church if they'd like to bring their kids to make candy. The one, I know, is looking at a bleak Christmas so all of us at church are going to try to give her and her kids a nice one.

I finally took a picture of that snowflake light curtain I bought at IKEA:
I think they are pretty. Prettier than they look in the picture, anyway.
That's poor Daisy being thrust into the action by Megan,
who has developed an uncontrollable urge to recreate
the opening of the Lion King with the poodle at the oddest times.

And just for fun, here's a picture of Miss Daisy hogging all the bones and not sharing with her big brother, Elvis. She's such a little diva!
And here's a few more of my favorite decorations:

And this week's Follow Friday thoughts:
This week's statements:
1. I usually ___ but never ____
I usually buy craft projects but never finish them.
2. I was named ___because ___
I was named Stacy because someone (THANK YOU) convinced my mom that Anastasia was too much.
3. I would never change _______about my body, but I would change _________
I would never change what I think about my body, but I would change my body. Does that make sense? I'm not sure I got this one.
4. The last time I said "I Love You" was to _________
The last time I said "I Love You" was to my husband this morning.
Join up with the Friday fun at: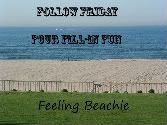 and