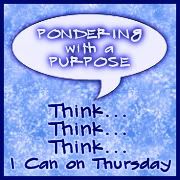 It's Thursday and you know what that means....Pondering with a Purpose. Pondering is a blog hop and the brainchild of Brenda over at
Ponderings of an Author
. Every Thursday Brenda gives us a prompt and participants express their thoughts on it any way they want. If you'd like to join in or just read more posts simply click on the Pondering button to the left and head on over.
This week's prompt:
Memories
Yeeeesh, you sure know how to pick subjects, Brenda. I've been having a bit of a crappy time this week and my mind is running to the maudlin side of things. So, since you asked what memories we have to share that might be interesting to others I thought I'd share something I wrote a few years ago for the online newsletter,
PhancyPages
. The following is some of my memories of living in a wildlife preserve in the 1970s.
Rachelwood was a private 5000 acre wildlife preserve owned by the Mellon family (yes, those Mellons) here in the Laurel Highlands of Pennsylvania. Dad accepted the manager's position when I was 7 in 1972. Mom and Dad had toured the preserve before we moved and knew what to expect, but I had no idea. In my mind, I pictured a large zoo and us living in the middle of it. I was a little off. Rachelwood was entirely fenced in by 8-ft wire fencing with 3 rows of barbed wire on top, but for the most part the animals roamed free and other than the central area of homes and research buildings and barns the preserve was heavily wooded with a few pasture areas and large ponds/small lakes.

When we first moved in we lived in Stonington Cottage which was a Scottish-style stone house (complete with slate roof and red deer antlers over the doors) where the Mellons and their guests stayed. We lived there for a year and during that time there were no overnight guests. The cottage was furnished with wonderful hunt club type furniture and decorations. The window sills were nearly 3 feet deep and a grizzly bear hide sprawled in front of the fireplace. Just outside the wide front windows acres of manicured lawn stretched out with a myriad of surprises guaranteed to delight a precocious child. The lawn was multi-leveled with the levels divided by 6-ft high stone walls, 2-ft thick....wonderful for walking on and climbing. A 2-story stone gazebo, dry fountains, sundials, canons and a rumored Indian grave site were among the delights. We moved into the manager's house a year later.

The gatekeeper's house sat just inside the big electric gate that all visitors entered through. The gate was unlocked during the day, but visitors had to check in by intercom. After hours and on weekends the gate was locked. Those who lived there had keys to unlock the keypad, but visitors had to wait for someone in the gatekeeper's house to open the gate for them. Inside the gate, it was another 2 miles up the mountain to the main complex of homes and buildings. Four full-time employees and their families lived in the preserve as well as various graduate students that stayed in mobile homes adapted as student housing. The research director lived in a house outside the fence, but just moments away.

Game animals found on the preserve included white-tailed deer (albinos were not at all uncommon), elk, red deer, big horn sheep, mouflon sheep, Canadian geese, mallard ducks, wood ducks and wild turkey. Black bears were common, but not something under the control of the preserve. They came and went as they pleased. The ponds and streams were well stocked with bass and trout that were raised on the preserve. Once we had a buffalo brought from Colorado by a team coming to get a family of big horn sheep. That fellow didn't last long as he was wild and caused too much damage....including a good kick to my dad's knee that troubled him for the rest of his life. I had a pet ferret long before they were legal for just anyone to own and the research director helped care for the animals at the Pittsburgh Zoo so from time to time he would bring one back to the preserve to care for. My favorite was a tiny black panther cub no bigger than a normal kitten.

The Mellons and their guests used the preserve like a sportsman's club. In warmer weather they would come and fish all morning, break for a large and lavish lunch and return to the streams in the afternoon. In the spring they would hunt for turkey. Employees would drop them off at blinds and then back track to drive the turkeys toward the hunters. In the fall and winter months they hunted the big game using the same method of beaters driving the game past the hunters. This guaranteed every hunter at least one kill, but most scored several a day. It was not unusual to have as many as 80 kills a day and because the animals were grain fed nearly all were trophy animals. Because of the status as a preserve, game laws did not apply.

Research actually played the biggest role at the preserve....at least during my dad's tenure as manager. There was a research center with state of the art necropsy rooms and laboratories as well as offices and conference rooms where the many talks and tours my dad gave began. There were many animal pens in which study animals were kept. In all but one or two rare cases, I was allowed unchecked access to these and spent many hours with my animal friends. When there were hunts, the research staff went into hyper-drive. The preserve boasted a large walk-in refrigerator and freezer. On hunt days each of the animals killed was autopsied (for lack of a better word) and studied for many different things before being hung in the cooler. My mom and the preserve secretary kept careful notes of it all. I was too young to have an official job, but pitched in where ever I could and hung around all day soaking up everything I could learn. The animals would hang in the cooler for a few days until some of the hired men butchered and wrapped the meat to place in the freezer. No meat was ever wasted. Each family living in the preserve was given a yearly allotment of various types of meat, each of the hired men received an allotment, game was served whenever the Mellons entertained and until government regulations put a stop to it, my dad donated hundreds of pounds of meat a year to a local nursing home.

I could go on and on. It was such a wonderful place for a kid to explore the natural world. Everyone that worked there was incredibly patient with me and my never-ending curiosity. The mechanic never chased me out of the garage. The hired men never told me I couldn't tag along. The research director never refused to answer my questions and often showed me things on his own. The graduate students treated me like a kid sister and let me tag along on their experiments and explained it all to me. Living in Rachelwood was like living in a never-ending wildlife documentary. I know I have seen and done things that most folks never will and I am incredibly grateful for having had the opportunity.