Good morning! It's good to feel well enough to even contemplate writing a post. I started feeling like something was coming on back on Monday afternoon. By Tuesday evening I was running a fever and couldn't get warm no matter what I did and when I did finally get warm, it was too warm. I called off work yesterday. I already had a doctor's appointment scheduled for a follow-up so, I kept it. Good thing. I don't know what I have, but he put me on an antibiotic and a steroid (to reduce swelling in my sinuses). I was running a fever, achy, and my ears are so full of fluid the ear drums are bulging. He gave me an excuse and ordered me to stay home again today.
I am hoping to feel a LOT better by tomorrow so I can go to work. It's the last day of school, payday, and our Christmas party is in the evening. Unfortunately, in looking at the weather forecast.....it may not matter how I am feeling. We are in the area predicted to see 6-10 inches of snow!
Well, enough about me and my cooties. Let's move on to what you've come looking for,
Pondering with a Purpose.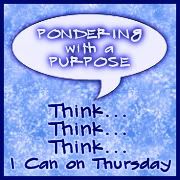 Today Brenda asks us to ponder: Overcoming Loss
How do you do it? Have you done it? Do you have any advice for others?
Now this could be a...
Loss of Innocence
Loss of Dignity
Loss of Privacy
Loss of a loved one
Loss of purpose
I've touched on most of these in other posts I think, but maybe Loss of Innocence is one I've neglected. I think for me the first time that happened was when I was in my early 20s. I had a sheltered childhood growing up. Whatever else was wrong with it, I was protected from the bad things of the world. I knew I was loved or would at least be taken care of. I knew the adults in my life were there to deal with things. I was an only child, only niece on both sides of the family, only grandchild on one side and only granddaughter on the other.
I got married in 1984 at the age of 20, which, to my family seems to have signaled the end of my status as the doted on baby of the family. Three months later my grandfather died unexpectedly and my family seemed to begin to implode in slow motion. It took a couple of years to completely settle my grandfather's estate and through it all I got to see sides of my family I never had a clue about. They told me things about each other. They did things (the worst of which would be my aunt trying to put the moves on my husband). Once the estate was settled both aunts dumped their husbands in quick succession and less than honorable ways. Rifts were created that have never been completely mended. I've never been able to look at my family the same knowing the things I know.
The whole family fell apart and grew distant. I lost my innocence and my family for the most part. How did I handle it? Badly. I mourned like I would for any loss and I've admittedly never really forgiven some hurts. For a long time, I held tightly to them reliving and rehashing them over and over and justifying my anger by how terrible the wrongs were. I am working on coming to terms with it all and letting it go now, though. Why now? Because I became a Christian since those days and as such I am an ongoing project, always learning and growing in my faith and my ability to live as I should. These days I know that I can live through loss, no matter what it is, because I have God to give me strength and hope.