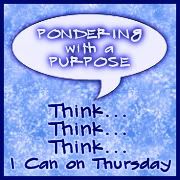 As always, joining in with Brenda and the gang for Pondering with a Purpose, the meme that really makes you think.
This week's prompt:
Close
Brenda wants to know what we think when we see that word. Do we think "shut the door" or do we think "nearby?"
I've been trying it out. Looking away and looking back. Reading it in my head. Saying it out loud. It seems that I hear it in my head as nearby or just around the corner. I see and hear it as a "coming," of something approaching, rather than an ending or shutting of a door.
It's funny, because if you were to ask, I'd probably say I'm a glass-half-empty kind of girl. What I'm seeing here is that maybe it depends on how you ask the question. In thinking about "close" I've discovered that I'm a lot more hopeful and sure that better things are coming than I thought. I will take the chances life throws my way.
Things don't always work out the way I'd like, but I'd rather take the chances than reach the end of my life and never know what might have been. I hope you think that way, too, or that you learn to think that way.
I hope you dance life's dance....