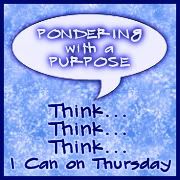 Thursdays around here mean
Pondering with a Purpose
along with
Ms. Brenda
.
Pondering
is a sweet little blog hop in which Brenda gives us a tiny, little prompt. Really, it's just one word, but here is where you find out the power of words. It's totally amazing and interesting to read where the prompt takes everyone. Click on the button or the link to join in or just to read the other entries.
This week's prompt:
Race
Race. Thanks to the recent election season and the continued political climate (especially if you spend any time on
Facebook
) the first thing that comes to mind is ethnicity. I really hate that. I'm not a person that has ever given any concern to where a person comes from (other than interest in different cultures) and I certainly don't care what color someone's skin is. God created all the colors, so that is good enough for me. The worst thing that has come out of recent politics is the deep racial divisions. We have the first president of a mixed racial heritage...you'd have thought he'd have been better at uniting us rather than polarizing us.
The other thing that comes to mind when I think about "race" is rushing to catch up or get something finished. I am a terrible, terrible procrastinator and I do my best work at the last minute. I never confessed to my kids because I didn't want them to try it, but even as a journalism major in college with a minor in English, I NEVER wrote a rough draft of a paper except for the time or two I actually had to turn one in as part of my grade. No, all my papers were typed as a finished product the night before they were due. If you're expecting me to confess poor or mediocre grades, sorry. I got A's.
I am still the same way about most things. Nothing will get my house cleaned faster than company due at any time. I race around like a tornado on speed, stressed...and stressing everyone around me, but it gets done and it gets done well. Sometimes I think it would be nice to spread things out and not get stressed, but then along comes a good book, or an interesting show, or a call from friends, or Facebook, or organizing my purse, or .......well, you get the picture......and the next thing I know it's T-minus 5 and counting!
So, those are my thoughts on race. Thanks for pondering with me.