Man, I am dragging today. I stayed up too late (for someone who has to get up at 4:00 A.M.) watching the new episodes of Duck Dynasty. Then since our daughter was out, the hound slept with us....and he takes up two-thirds of the bed. I end up sleeping in positions that rival the contortionist in the circus side show when he joins us. Last night my sleep position resulted in a stiff neck that turned into a major headache that woke me up around 3:30. Miserable night = miserable me today. Tim says from now on he will be dragging the hound out of the bed. Poor puppy isn't going to like it, but we need our sleep and with our daughter going out most nights or staying away from home, we have him with us more often than not these days.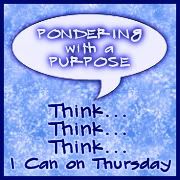 Being that it's Thursday, it's time to join in with Brenda and the others for
Pondering with a Purpose.
Every week, Brenda gives us a prompt and the idea is to expound on it in any way we want, then link up on Brenda's blog so we can all see each other's take on it.
This week's prompt is:
GREEN
With St. Patrick's Day coming up this weekend my thoughts first turned to things like shamrocks and leprechauns. And beer, because apparently what is St. Patrick's Day without green beer?
Then I thought about living green, which is all about taking care of the planet we call home. I am all for that...within reason. You couldn't call me a tree-hugging greenie, though I grew up believing we need to tread lightly and still do. I just don't think it's necessary to be an extremist, an alarmist, or militant about it.
Green with envy? Such a waste of time. Chances are if you knew the whole story, the grass on the other side of the fence grows over the septic tank.
What I really think of when I think of
green
, is home....this southwestern corner of Pennsylvania (which literally means "Penn's Woods). The first time I went on a mission trip to the Navajo Nation I had one of the Navajo kids tell me that he wished he could come home to Pennsylvania with me. He was quickly joined by a chorus of other voices agreeing that Pennsylvania must be a wonderful, beautiful place. Now, there was me, walking around in awe and wonder at my first look at the high desert country of New Mexico and Arizona with its brilliant blue skies and red rock formations and I couldn't imagine anything more breath-taking. So, I asked the kids why they wanted to come to Pennsylvania, what did they think it was like? And one little boy looked at me and said, "Green." To a kid born in the desert and who had never been anywhere else all the green of Pennsylvania seemed like heaven. I've looked at my home state differently ever since.
Linn Run State Park....about 15 miles from my house.
source