Sitting here at my desk with Daisy for company at a time when I would normally be at work. Old Man Winter is flexing his muscles one (last?) time this morning in the form of freezing rain, sleet, snow, and high winds. In short, it is
NASTY
outside today.
I was getting a little worried this morning. I'd actually gone out to start the Rav 4 to melt the ice off it and called the bus garage myself when I came in. They knew we were delayed at that point, so I don't know if I called before they called me or if they forgot to call me again. At 7:30 I had my coat on and was getting ready to go out to start the Rav again when the phone rang to let me know school was cancelled.
The wet stuff seems to have died off, though the wind remains wicked as ever.....seriously, if you could hear some of these gusts hitting the house, you'd be expecting the roof to lift off at any time. I guess I can deal with that and keep my doctor's appointment in a bit. The roads, I hope, will have been plowed and salted by then.
Not a lot on the agenda today. I can always do a couple loads of laundry...never ending, you know. I'm going to roast a small turkey that I had to take out of the freezer Saturday night to make room for a much larger one I won in a raffle. Reading some more of
The Immortal Life of Henrietta Lacks
is a given. It's very interesting, not my normal kind of book, but good. I'll probably work on my post for Wednesday, too....I'm guest-hosting the
Writing to God: 40 Days of Praying with My Pen
community over on Dawn's blog,
Beneath the Surface: Breath of Faith
. I hope you'll come over and check it out.
"Glorify the Lord with me;
let us exhalt his name together!"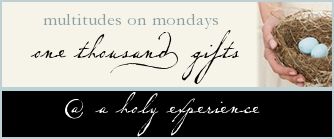 21. A home that is snug and warm when winter winds howl.
22. The amazing technology of computers that lets me write a post, research something else, chat on Facebook, listen to music, and check email....all at the same time!
23. The pellet stove that fills our home with constant even heat.
24. The big dog, who though not thrilled, slept all night on the floor.
25. Jobs that continue to last in an uncertain economy.
26. A mother and step-father who are at least considering attending church on Easter then joining us and others from church in going out for dinner.
27. A husband who still worries about me and calls to warn me of bad roads
even after more than 28 years together.
28. Children who are healthy and have been spared any major tragedies in life.
29. A beach vacation to dream about on cold snowy days like today.
30. The soft, curly hair of a poodle under my fingers.