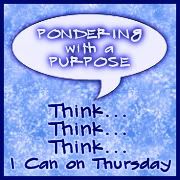 It's time to hook up with Brenda and ponder with a purpose. Each Thursday Brenda gives a prompt for us to ponder on any way we want....essay, poetry, music, pictures....whatever. Just click away on the blue button over there to the left to head over to Brenda's blog for complete rules if you want to join in the fun or for links to the other blogs participating.
Okay, I have to say that the one time I used pictures was to ponder on "orange" and
that post
still gets more hits than any other in the history of my blog except for
the one with the Coke logo
. Both of those must be pretty close to the top of the list when you do a Google search. Oh, and in a pretty creepy aside....a picture of my
daughter in a Ford ball cap
that I posted on her birthday comes up pretty high on a search for "hot redneck girls."
Getting back to the point (there is one)....
This week's prompt:
watch
I like to watch stuff. Do you like to watch stuff?
This is my favorite stuff to watch.
Watching can be fun...and funny.
Or downright creepy.
And you know you don't want to miss what comes next when a redneck says "Hold my beer and watch this!"
That was fun! Thanks for stopping by to ponder with me.
Have a blessed day and don't forget to check out
the rest of the ponderers.