I enjoyed a very blessed weekend....didn't see a lot of Megan, but I suspect there will be more and more of those times coming, especially now that she is going to be working again. That's right, she got the job at the garden center! Woot!
The women's group from church (we
REALLY
need a name) got together Saturday morning for another session of Beth Moore's
Jesus, the One and Only
series. I've not always been a big fan of hers but this study is powerful, thought provoking, and emotional. We break out the tissues just about every time we meet. The conversation was exceptional this week and a few of us lingered until 1:00! (We started at 9:00!)
Tim didn't go with me to church Saturday night. He was working on the church renovation (yes, even with one hand) and wanted to finish the part he was working on so he didn't have to go work on it on Sunday. I kind of hate it when he chooses to work over going to church...even if he is working on
the church!
...but after 29 years, I've learned to accept it because it's who he is and work is what motivates him. No sense getting all upset when he refuses to see the point.
Church was a good time, anyway. We made our nominations for council officers and I have to call them tonight to let them know so they can have the week to prayerfully consider if they want to be on the ballot. The great conversation continued during the dinner, too.
On Sunday, Tim and I ran a few errands and did some grocery shopping...made our first trip to Aldi's in several years. I used to shop there a lot, but got out of the habit. It's changed, but for the better. I'll be going back more often. Mostly
,
we just relaxed and Tim got a lot of sleep, which he doesn't get through the week.
The only bummer was that Tim wouldn't give up the remote last night so I didn't get to watch the ACM Awards. It's never part of the show, but they do announce the winner for Songwriter of the Year. I've had my fingers crossed the last two years because my (2nd?) cousin, Luke Laird, has been nominated both years. He didn't win, but it was still a good night for him as Pontoon, the song he wrote for Little Big Town was up for single of the year and Eric Church's album, Chief, won for album of the year and Luke had 3 songs on that! He's going to get that award one of these years. No awards for my man, Toby, this year, either. Boo!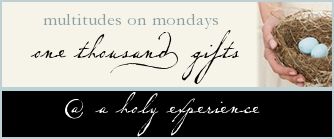 So, now it's Monday and the counting continues.....
31. Making the break with my soda/caffeine addiction...and Advil keeping the "withdrawal" headache at bay.
32. Wonderful women to talk about the things of God with, who lift me up when I need it, chastise me when I need it, laugh with me, cry with me...and teach me to trust again.
33. Beautiful, warm sunny days after a very long, very gray winter.
34. A real vacation to look forward to.
35. A hand-drawn picture and sweet thank you note from our granddaughter.
36. A willingness to begin work on a "sermon"....a first and something I've fought against for quite some time.
37. Pedicures....total luxury and pampering, but oh, so worth it.
38. A job for Megan that she is excited about and eager to start.
39. The reemergence of life...robins, flocks of turkeys, herds of deer, fat gray squirrels racing up one side of the front fence and down the other, daffodils just poking their green heads above the earth....all signs of winter's end.
40. That a broken hand is a "good" break and requires no surgery.