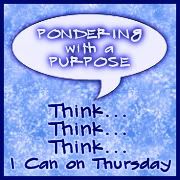 Welcome to
Pondering with a Purpose
the weekly blog hop brought to you courtesy of Brenda Youngerman. Every Thursday Brenda gives a one word prompt and participants make of it what we will.
This week's prompt: skirt
There is more than one way to look at "skirt" but I think the obvious one is the most interesting one. So, let's ponder a little bit about skirts today....
We can talk about long skirts, otherwise called maxi's. Long skirts can be formal
or casual.
Short skirts can be classy and sexy
flirty and formal
or just plain too short!
Skirts can be funky
or absolutely ridiculous!