I thought today was going to be a good day when I started out....and it has been, but not in the way I had imagined. Today was the last day of school for the public school district I drive for, so I knew the kids were going to be in good moods and a lot of fun. Add to that a half-day and what's not to like?
I don't want to be a downer so I won't go into detail, but things started going wrong right from the beginning. There were a couple of times I just wanted to give up, but God started talking....and he kept on talking. In fact, he never shut up all day. He has been calling me on the carpet about, well,
EVERYTHING!!
He's even thrown in a couple of probie hits for good measure (a probie hit is what they call it when Gibbs on NCIS smacks someone on the back of the head).
So, here I am and things are still botched up, but I'm not feeling so bad about them. It's kind of hard to when you've been chatting with God all day and he's telling you to
ask
him for what you need, to
trust
him, and get to
know
him even better.
On to the counting with
Ann
and the others.....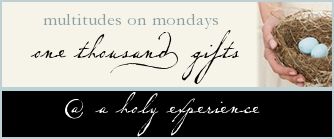 86. A fall on an already problematic knee that could have been much worse....but wasn't.
87. Cooler temperatures for these final days of school.
88. A God who knows our deepest hurts and needs....and wants us to give them to him to take care of.
89. A generous and thoughtful thank you gift from a student of a tart warmer and 6 packages of homemade scented tarts (Mom has a small business selling them and candles.)
90. Hugs from students I never expected hugs from.
91. A big sale on t-bones...guess what's cooking on the grill tonight?
92. That we can get sweet ripe fruits all year round. Local and organic is best, but some is healthier than none at all like our forefathers had.
93. A summer that is filling up with lots of great things to do....and still plenty of down time.
94. The wonder of seedlings pushing through freshly tilled soil in the garden.
95. 12 days until the Toby Keith concert with a friend.
96. Two little froggies swimming in the fish pond.
97. The heady scent of the blossoms on the mock orange bush.
98. The warmth of a tiny poodle body pressed against my back during the night.
99. Worship songs that make my soul cry out in praise.
100. New friends.