Late season snow falls heavy and wet...
Schools all closed for the day...
A reminder that He washes whiter than snow...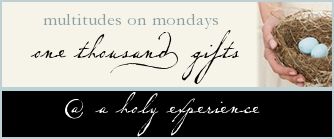 251. The gift of "free" time, wrapped in the heavy wet whiteness of a late Spring storm.
252. The wisdom of the decision makers who chose to keep children home safe and sound because the worst is yet to come.
253. Hound dog, head burrowed deep into the lilies, tail held high and wagging at some cornered intruder, as snow piles up on shiny black fur.
254. A warm house, a pot of tea, and a stack of good books to read on a cold, snowy day.
255. Power that just went out, but came back on!
256. A nap in the middle of the morning.
257. Friends home safely from the Philippines.
258. Laughing until you cry.
259. A pizza and a Sunday drive.
260. A second hat knit! Who'd have thought it?