Small fingers clutched mine.
Dark eyes wide with fear.
A week of powerful storms had taught well the lesson of what was coming after the warning to "seek shelter immediately."
For the first time, though, it was just we two.
In the basement.
Huddled.
Waiting.
Seeking to distract, the words of songs learned that week in Vacation Bible School spilled out.
One song, two songs, three songs as the storm raged above.
Small fingers again reached out.
A gentle pat this time, not a clutch.
A small face looked up.
Calm.
"It's okay, Mommy. I'm not afraid any more. Jesus is here."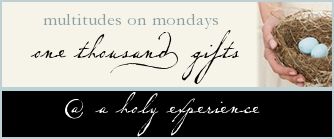 239. Peace during the storms.
240. A child who knew you once (so there is hope she will again).
241. The first steaks of the season sizzling on the grill.
242. Butter dripping from fresh corn-on-the-cob.
243. A husband who once again is enjoying the fellowship of Christian men.
244. Being someone's "blueberry muffin."
245. Baby goats wanting their chins scratched.
246. A perfect window for a remodeled church.
247. Silliness between girlfriends.
248. Running into old friends and talking forever.
249. Tulips bobbing in the breeze.
250. Joy that has no reason but You.