Even though he spends most evenings exhausted and zoned out or sleeping, I'm finding it lonely around here without Tim. He had to go supervise some plumbers at a previous job this afternoon and since they weren't expected to finish until late and he's just down the road from his current project site, the company got him a hotel room so he can get some sleep rather than spend 2-3 hours traveling back and forth. Something's just
missing
, you know? His presence makes a difference. This loneliness comes even with Megan having been home all afternoon (and not a single fight between us!).
Can't say that I've accomplished much today. Three trips to the store...guinea pig food and shampoo...a new charger for the laptop...and storage drawers for Megan (
SHE'S CLEANING!)
, bathed the dog,
and a lot of reading, both online (I'm so far behind) and a book I got in the bargain bin at the grocery store a few weeks ago. The book, by the way, is beautifully written. I may have to review it on
the book blog
when I finish.
Oh, and I've been listening to music. Have I ever mentioned how much I love the bargain CD bins at Wal-Mart? It used to be that they only had a $5 bin with very old, obscure, or one-hit-wonder music. Now they've added a $7 bin and the music is a little newer and definitely less obscure. There is even a good bit of Christian music to be found in the bins...everything from Southern Gospel to praise songs to dc Talk and the Newsboys. Between the two bins I snagged Bob Seger's Greatest Hits Vol. 1
and
2, The Best of Sweet (my favoritie glam rockers), Ronnie Milsap's Greatest Hits, and The Very Best of John Michael Montgomery. I've listened to them and ripped them now I just need to burn them. I learned my lesson a few years ago about never, ever keeping the original CDs in the car when someone broke in and stole my entire collection that I had happened to leave in the car that night.
Tomorrow begins the
final
, final countdown for the school year. Just five days this week and a half day next Tuesday and the public school I drive for is done. I do have to drive one week beyond that for the private school I pick up for, but it's hardly a blip on the radar in terms of how much time it takes and those kids are so well behaved and polite, I don't mind at all. It may get a little crazy this week (seems there is always extra driving and things to get done the last week and of course, the warm weather kicks "real" life up a notch, too) so don't worry if you don't hear a lot from me in the next few days.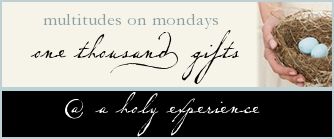 291. A little toad? frog? swimming in the fish pond. A first.
292. A granddaughter's love that didn't forget.
293. One bridge crossed, one brick knocked out of the wall.
294. Clear, yellow sunshine...gentle breezes...fresh mown grass...
wet, turned soil...as the earth celebrates the return of summer.
295. A tiny, newborn baby asleep in my arms.
296. Worship. Unfettered. Spirit-moved.
297. Wild curls exploding around a face alive with joy.
298. The first lick of a summer ice cream cone.
299. The crack of bat against ball.
300. Buttercups, dandelions, flox....picked beside the road and presented
by grubby hands and faces split by gap-toothed grins.
301. The contagious joy of children faced with 3 months of freedom
and endless possibilities.
302. The smell of barbecue wafting across the neighborhood.
303. Unexpected visits from friends.
304. Abundance.
305. A heart that seeks you and continues to grow.