It's Friday again. You know what that means....it's time for
Friday Fragments
, the blog hop that gives us the chance to share the little nuggets from the week that weren't big enough to be posts on their own. I hope you'll join in and post your own fragments, but even if you don't check out the other blogs participating....you'll find some great blogs and maybe a new friend that way.
:

What a gorgeous morning is going on outside my window! It looks like summer has finally decided to make a come back after a cold, gloomy, rainy week. So glad for it. The gray days get to me after a while. I need the sunshine. I think I just might head out to check out some garage sales in just a little bit....like more stuff is what I need. You never know what you might find, though. I can promise one thing.....no more puppies! One is plenty.

I love old books. I love cookbooks. (Actually, I love books in general, but that's not the point.) Yesterday I picked up a 1940 cookbook at a tag sale called Ida Bailey Allen's Money Saving Cook Book. I thought it might be interesting to see what the thinking was on economy back in the day. I haven't been disappointed. It is interesting. Some advice from the meat section:
Unusual Meats-All Money-Savers: Try these in rotation, one or two each week. They will provide ten money-saving dinners before you start the round over again.
Liver-any kind may be used
Tripe-fresh or pickled
Lamb's tongues
Beef heart
Calves' hearts
Brains
Calf's head
Rabbit
Kidneys
Oxtails
Um....yeah. Nothing says yummy like a big ol' plate of lamb tongue and calf head.

Sort of getting started on my summer job tomorrow....though I don't think I'm getting paid. The summer camp I'm going to do some driving for has one staff member who's going to get his CDL to be able to drive the bus as well. He is going to take the driving portion of the test and has to have a licensed driver with him. That's where I come in. Should be an interesting afternoon. He's taking the test at the company that trained me and that I drove for when I first started. Wonder if anyone I know will be around?

Our son is having a rough time at work. The dealership was taken over by new people and it seemed like things were going to get better, but then again..... He was so excited about having having his best month ever thanks to a new commission scale, but they all got called in the other day and told that paychecks would be late because they don't have the money. They are supposed to be paid by next Friday at the latest. Fine (sort of), except that he had planned to take the family to Erie for a couple of days to enjoy the beach. They were going to swing over to Cleveland to see the zoo, too. He said something to his boss and they advanced him enough to go, but he says enough is enough and that he is done Tuesday.
There are three job offers waiting, I guess. He doesn't want any of them permanently, but they will do for a little while. See, he got a letter this week about a job he applied for last year as a waterways conservation officer. I guess it's a for sure thing, but he doesn't know when the training starts. The training is 40 weeks long and somewhere over in the eastern half of the state. They will have to move, which is probably not a big deal because they'd have to move to wherever he'd be assigned anyway.
I hope it works out. He's always loved water....creeks, lakes, the ocean....didn't matter. I think it'd be a good fit and he'd finally be happy in a job.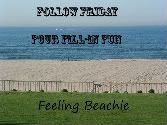 And here's another fun Friday blog hop, the
Follow Friday Four Fill-In Fun
(that's a mouth full!). For this hop, participants are given four statements with some words left blank. It's as simple as filling in the blanks.
This week's statements:
1. When I______I______.
2. I wish I was _________.
3. If the world is my oyster then __________.
4. My favorite meal of the day is _________ and the food I think would be my favorite to eat then would be ________.
My answers:
1. When I
am in the car alone
I
sing or talk to myself.
2. I wish I was
able to sing well enough to let others hear it.
3. If the world is my oyster then
there had better be a lot of pearls in it for me.
4. My favorite meal of the day is
supper
and the food I think would be my favorite to eat then would be
shrimp...any kind.
That's it for the Friday stuff. Have a great day and if you need something to do this weekend stop back for Saturday Share tomorrow when I'll share links to some great things I've seen this week.