Good morning! Happy Friday and welcome to June! Can you believe it's June already? If the Mayan's turn out to be right, that means we're about half way to Doomsday. Oh my! Good thing I don't believe that or I'd have to go hide under the covers. LOL Not really...as a good Christian girl I'd like to think I'm ready to meet my Maker on any given day.
Being that it's Friday, that means it's time for a couple of traditions around here.
Friday Fragments
with Mrs. 4444 which has been around for a while and the newer (at least to me)
Follow Friday Four Fill-In Fun
with Hilary. So, pour yourself a tall glass of iced tea and sit back, relax, and visit for a while.
We've been doing lots of work around the yard this week. Well, we've done some, but most of it was done by a couple from our church, Efran and Martha. They had originally agreed to do all the work for a mere $400, but because of other work they had it took them a little while to get to us and that is why we started it ourselves. They still did an incredible amount of work in a very short time....and I loved having their three kids around. My aching back and hip are very grateful to them for the help....and their incredible generosity. When I asked what we owed last night to settle up, Efran said "Nothing." He said he would "trade" us the work for the shrubs I said he could have and some batteries and scrap metal Tim is giving him. Wow. They really did a lot of work. I feel guilty. But very thankful and very happy. I haven't taken any pictures of the finished yard yet, but here are some shots I took around the yard the other day.
This little guy was my Mothers' Day gift. He is solar
powered and at night it looks like he has
lightning bugs in his jar.
My Scooby's final resting spot
overlooking the fish pond.
Wisteria on arch over front walk.
Roses on the front fence.
Bird nest in the apple tree.
Sweet pink rosebud.

The public school district I drive a bus for wrapped up their last day on Tuesday. I always take a cooler full of Pepsi and bottles of water and snack-sized bags of chips for the kids on the last day.....and they know it. They start asking in March if they're going to get it. Even kids who don't ride on the last day will stop by the bus to get theirs.
The last day is a fun day, but a little bittersweet, too. There are hugs and tears with the Seniors. So hard to wish them well and let them go after 6 years together. Then there are the little guys who drive me nuts all year, but surprise me all the time with thoughtful gifts, hugs and helpful attitudes. The last day I got roses and several gift cards and one little guy, who I know has a tough home life, didn't cry but he sure did drag out his goodbyes. Those are the ones that get you.
So, now I'm only driving for the private school. I get my bus at the garage about 7:20 and am back at the garage by 8:05. In the afternoon it's 1:15 and 2:15. I will finish with them on June 6 and then the summer is mine!

Garage/yard sale season is underway. I went to my first one of the summer last Friday. For people downsizing from a 12-room Victorian mansion to a 6-room cottage....I expected a lot more stuff. Still, I managed to get a stack of books and the biggest Pyrex lasagna pan I've ever seen. Mom and I stopped at a couple last Sunday and I got more books (big surprise), a crab net, a sweet piece of costume jewelry (it's a stretchy orange bead bracelet with a big orange enamel flower with a rhinestone center...it's prettier than it sounds), and a cute purse for our granddaughter that looks like a dog. The one I stopped at this morning netted me a cow flashlight (Megan collects cows), two new crocheted dishrags, a dream catcher windchime for Megan, and a flowerpot that looks like a cake.
Tomorrow I'm going to a community-wide sale with a friend. Can't wait to see what I find...with this stinky economy people seem to be parting with more stuff.

en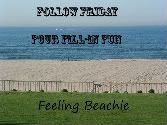 This week's statements:
1. I always ____ when I ____.
2. ____ is very hard for me to do.
3. Whenever I eat ____, I want to ____.
4. If I ruled the world, ____ wouldn't exist and everyone would ____.
My answers:
1. I always

give the dog a treat

when I

leave the house

.
2.

Making friends

is very hard for me to do.
3. Whenever I eat

at a restaurant

, I want to

order things I don't cook myself

.
4. If I ruled the world,

poverty

wouldn't exist and everyone

have enough

.