Into every life some rain must fall, but eventually the sun returns.
My heart broke back in February when my poodle and constant companion, Scooby, died very suddenly. He was only 10...much too young for his fate. It was the first time any of us had suffered the loss of a long-time pet and it's been rough. Right up through last week I'd still have moments when I'd be driving and out of the blue a memory would hit and the tears would fall.
Saturday, out of the blue, the clouds parted and the sun shone through.
Meet Daisy Mae. She's a 10-week old toy poodle. I found her at, of all places, a garage sale (and oddly enough, she isn't my first garage sale dog). I think she will change to a lighter color as she gets older, but for now she is the spitting image of Scooby when he came to live with us. She is ornery and fearless and has captured our hearts. Well, maybe not Elvis's heart, but he is tolerating her well enough. The liking will probably come when she quits thinking his tail is the best toy in the house.
Beyond poodles, it was a good weekend.
Storms and tornadoes rolled through the area Friday evening. We got lots of rain and wind, but the tornadoes and micro bursts missed us. One tornado plowed through the neighborhood the bus garage is in. Had it been a normal working day I would probably have had to drive through the storms to get home. I drove through heavy downpours as it was, but was safely home before the worst of the weather. The good news is that no lives were lost and I don't believe anyone was even hurt. Just property damage and you know, stuff is just stuff....you can't take it with you.
Someone set our town's playground on fire sometime between Friday night and Saturday morning. It was one of those big, elaborate wooden deals that Robert Leathers designs and gets built entirely by donation and volunteers. They've ruled that it was arson and there is over $50,000 in damage. To what end? I do not understand people.
I went to a community-wide garage/yard sale with friends on Saturday. It was fun and I found a few things: a big golf umbrella (they tend to disappear so why pay full price at the store?), a couple of books, a cow figurine for Megan, a Christmas brooch....and then I found the puppy and my budget was blown. I walked around a little longer but ended up leaving early so I could shop for the things a puppy needs.
We went to church Saturday night and took Tim's aunt with us and.....Megan went too! Friends wanted to meet us for dinner afterward and they asked Megan to come. She said yes, then found out she'd have to go to church with us. She wasn't thrilled, but she went. We were happy. Any time she can hear the message is a good thing. Everyone came back to the house after dinner and we had a nice visit. Our friends' daughter and her baby spent the night. Another good thing. Her boyfriend (and the father of her children) left her on Friday (considered a good thing by most) and hanging out with Megan helped keep her mind off that.
Yesterday Tim and I hit a couple more garage sales (all I bought was a couple of candy molds), had lunch at a little cafe, and drove around seeing the storm damage.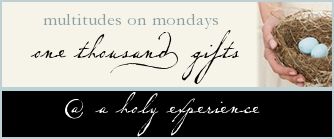 321. Sweet puppy kisses and cuddles.
322. Storms that passed by.
324. A "child" in church.
325. The robins' song first thing in the morning.
326. God's power and majesty displayed in a storm.
327. The reactions of children to a puppy.
328. The way a puppy brings out the joy even in the grumpiest of people.
329. Roadside barbecue chicken stands open for the summer season.
330. Fresh, ripe strawberries bursting with flavor not found in the store-bought kind.
331. The promise of a huge blueberry crop.
332. Garden plants taking root and growing nearly before our eyes.
333. The fun of hunting for bargains and treasures at garage sales.
334. The first lightning bugs of the summer.
335. Another school year nearly done.