Good morning, good morning, goooood moooooorning! We've made it to Friday again and all in one piece. God is good!
O taste and see that the Lord is good;
How blessed is the man who takes refuge in Him!
~Psalm 34:8
I finally got to pick up my new glasses and (prescription) sunglasses last Sunday so, since I can see (and possibly pass a vision test) I tried all week to schedule an appointment for my annual CDL physical. They like to make sure we school bus drivers can see, hear, and won't stroke out or lapse into a diabetic coma on the kids. It doesn't always work out that way though....The year before I started driving our school district had a driver DIE while driving a bus full of show choir kids through the Squirrel Hill Tunnels in Pittsburgh. There are never spare drivers on the buses, but for some reason there was that time and she was able to pull him out of the seat and get the bus pulled over. Whew! But I digress....
My regular doctor couldn't see me until nearly the end of September. Not helpful at all since my current physical card expires August 11. Since we are planning to change doctors anyway, I gave the doctor we have in mind a call and he could fit me in August 13. Also not helpful, but when I explained a bit more they agreed to see me before actual office hours on August 10. I made that appointment and then called my boss. The problem is that it used to be okay to just have your physical card signed by the doctor but now you have to have the paperwork filed in Harrisburg before the expiration date, too, or they will drop you back to a class C license.
My boss suggested I call the office of a doctor whose kids ride my bus. They love me and never, ever want me to leave. She said she'd bet they'd fit me in if I explained the situation. So, I stopped by the office yesterday....only to find it closed....but I noticed a sign in the window of the chiropractic clinic nextdoor that said they did DOT/CDL physicals....but they weren't open until 3:00. So, I went home and ate a bowl of soup and took a 2-hour nap waited patiently until I could call. When I did they said they could see me as soon as I could get there. So, to end a really long story....I'm a legal school bus driver for another year.

We're catching a little bit of a break today with the heat. Not much, but a little. All those apocalyptic thunderstorms that roared through yesterday did it. We've been dry and behind on rain for the year, but I'm pretty sure we're all caught up now. It's going to be several days, probably, before I can get in the garden again or we can mow the grass (already high from earlier rains). The pool is full. The fish pond? Also, full.
We did need it, but it can be done for a while. It's not so fun having a 70 lb. hound running around terrorized or having a 4 lb. puppy that refuses to go outside to take care of business because it's we-eeeet and scary.
My "baby" turned 20 on Wednesday. No more kids. No more teenagers. I have mixed feelings about that. It's going to be awfully quiet around here when she's gone....and she and the boyfriend are already talking and looking at ads for places to rent, spurred on by her soon to start (we hope) job.
Even she is feeling a bit melancholy about things. She tells me she only has 21 (legal to drink), 25 (you can rent a car), 30 (she really doesn't know why because she finds that one scary), and 50 (over the hill) to look forward to now and it's just "depressing."
Ohhhh, my. I'm afraid I've been laughing my butt off and not at all sympathetic.
I'm helping to move my sister-in-law tomorrow. The temperatures are going to stay a bit cooler so that's good. I don't really know what to expect. She has been looking for a place for a while and has even had to go ahead and start her new job. She finally found something this week. Yea! It shouldn't be too bad. She had a couple of weeks before she left for the job and most of the packing is done. I think we'll mostly be loading the truck. Church is at 5:00 and she said she hoped to be loaded and long gone by then. Tim has to work so won't be able to help, but Megan said she'd go with me. The more hands, the lighter the load!
Tim had planned to work on Sunday, too. He is turning over one of the buildings he's working on next week and it's always a mad crush at the end to get all the details wrapped up. He'll be off, though, or at least working a shorter day than planned because a family friend passed away yesterday morning. The viewings are on Sunday. He was an older man (92, I think) and Tim's family rented a house on the man's family farm when Tim was growing up. He worked for the man and really looked up to him as a father-figure. He was always good to us and the kids. He actually offered to buy my son a pony and keep it on his farm. It's sad, too, because we've lost another WWII veteran and a highly decorated one at that. He had multiple purple hearts and a whole lot of other medals. I've only heard some of the stories. He was a hero.
Okay, let's get at those fill-ins!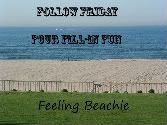 This week's statements:
I learned how to make _____ in ____

I have always wanted to ____

My purse always has a __________and _______________.

One day when I am ____________I am going to _______________________.
My Answers:
I learned how to make

clam chowder

in

Chincoteague, VA

I have always wanted to

live on a farm.

My purse always has a

bunch of receipts shoved in it

and

they all come flying out when I pull out something else.

One day when I am

old

I am going to

stop worrying about what everyone thinks and start telling it like it is.