Good morning! It's time to ponder with
Brenda
again. It's going to be a quick ponder this week as I am off to see my son and his family today. He and his wife are celebrating their anniversary today and it is also the first time my daughter and my mother will get to meet the new baby. Hopefully, it will be a civil, pleasant day, in which no one says or does anything to offend anyone else. Say a prayer, because I seem to do it unintentionally no matter what I say or do, and my mother doesn't seem to be able to keep racist remarks or hurtful criticisms to herself. Maybe I should just dose up on Advil now....kind of preventative maintenance.
Anyway....on to pondering!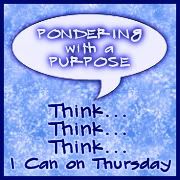 This week's prompt is: Goals. Do you set them? How do you handle them? Do you reach them?
Honestly, I'm not big on setting goals and again I think it comes back to the whole A.D.D. thing. I've learned that if I set some big, undefined goal there is no way in the world I'm going to follow through. I might start out strong for a while, but as time goes on......oh, look.....chickens! (Yes, I fell back on that old joke.) Sometimes big things happen, but it tends to be more of a fluke when it does. A happy fluke, but still a fluke.
Something small that I can do right now, like dust and vacuum, or walk the dog around the block, is about the right sized goal for me. I can do that, but a financial plan, a diet, an exercise program, writing a book (I used to dream of that)....those things just kind of fade away after a strong start. I've never mastered the art of breaking big goals down into small ones and using them like stepping stones.
I should get right on that.