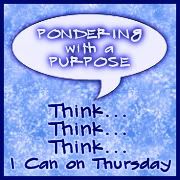 I'm back to ponder with you after missing a couple of weeks. I've missed everyone. Pondering is one of my favorite posting days, because it's always interesting to see how many different ways we all go from the prompt. So, thank you to
Brenda
for thinking up the prompt and hosting us each week. If you'd like to participate hop over to
Brenda's
blog for the rules and to grab the badge. Happy Pondering!
This week's prompt: Getting away?
Everyone dreams of getting away....don't they?
Where do you wish to get away to....or from?
Right now I'm pretty content, but that probably has a lot to do with the fact that Tim and I just escaped for a 4-day weekend. We didn't do anything stupendously exciting or go all that far, but away is away. Tim has been working crazy hours at his job, the building our church is refurbishing, and at our friend's soon-to-open pediatrics office. The man was
STRESSING
and was in serious need of a break. Me? I just needed a change of scenery after being stuck at home all summer doing pretty much the same old, same old day after day. We went to a county fair, stopped at any yard sale that caught our eye, fed ducks and fish, and.....well, you can
read all about it here
.
Getting away to anywhere is nice. I'm really not picky, though it does make me smile extra wide if there's water involved. Lake or ocean...either will do. Sometimes it's nice to have everything planned out. Sometimes it's fun to fly by the seat of our pants and see what happens. Sometimes it's nice to have family or friends along. Sometimes it's nice with just the two of us. As I get older I'm thinking it might be nice to go by myself sometime. I could read to my heart's content and do all the things no one else is big on doing. I think it might be easier to meet the locals on my own, too.
To this day, the best getaways or vacations I've had are our family trips to Chincoteague Island, VA, the mission trips I've gone on to the Navajo reservation in New Mexico and Arizona, and our family trip to Florida when the kids were 10 and 4.
Next up (I hope) will be driving across the country on U.S. Route 30. I've wanted to do it since I saw Lucy, Ricky, Fred, and Ethel do it they year they all went to California for Ricky to make a movie. Tim has recently decided it might be fun since some of the guys he works with have done it and told him about it. We can pick it up about 2 miles from our house and go. While on that drive, I'd like to stop and meet some of my blogging friends and detour for a bit on Rt. 66 over in Oklahoma. Hey, Toby Keith....wanna meet for lunch??? (What?? I haven't mentioned him in forever.)
Really, I think getting away is just about making a change. We get into ruts and it's nice to do something different. If you're like me, that means leaving home because if I'm at home I can't relax. I'm thinking about those dirty dishes in the sink, the laundry that needs done, the puppy that needs played with, the weeds that need pulled.... Getting away is an exercise in out of sight, out of mind and we all need that some times.