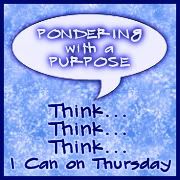 Coming to the party a little late this week, but it's Thursday so it's time for Pondering with a Purpose, the weekly blog hop hosted by Brenda over at
her blog
. Brenda's been giving us really tough prompts the past few weeks, so I'm feeling a little relieved about today's topic.....
Resolutions
.
Do I make them?
Do I keep them?
I have made resolutions in the past. Keeping them hasn't always gone that well. Actually, it's NEVER gone well. My resolve lasts about a week or so. Based on that I've kind of avoided the whole process the last several years. Why set myself up to fail, you know?
This year, however, I'm thinking I'm going to take the plunge again. I'm getting to be of a certain age and with that age come things that one has to deal with.....like a body that makes a habit of reminding me that I'm no longer 25, the mental fog of perimenopause, and always the question of what to do with the rest of my life now that the job of raising my kids is finished. So, here's what I'm thinking this year:
Live healthier. I'm not talking diet and exercise specifically, but that is part of it. I want to make a very real effort to make better choices about food, exercise, lifestyle, etc. If losing weight is part of it, that would be great, but it's not one of my resolutions.
Greatly reduce my Facebook time.
Read more. Since getting my bifocals I've backed way off on it.
Make the time to read the Bible, pray, and journal first thing every morning.
Do at least one nice thing for someone else every day.
Practice gratitude for life's blessings, both big and small.
Take time every day to just.....stop.
I'll be blogging about it all so stay tuned.