Holy frosty Friday, people.....it is
cold
out there! And yet, not as cold as yesterday when it was 8 degrees when I started picking up kids. That's just ridiculous in my opinion.
*No, I am not a fan of winter.*
I told my boss that I'm officially putting in my annual request for transfer to Jamaica. She laughs, but I'm pretty sure I could lead a donkey with 10 kids on its back to the nearest school.
It looks like they've got the "man" who shot our friends' daughter's boyfriend and killed him last weekend in custody. They just came up with his real name the day before yesterday. It's still a big mess though and everyone involved (including our friends' daughter) will be doing at least some jail time. Drugs. What a waste.
Tim is still not feeling well. I've been after him to call the doctor and see if they can see him in the afternoon on his way home from work. I guess he finally called yesterday and left a message, but didn't hear back. I'm hoping they call him today. He is the type who when sick will just keep pushing until he's really sick....like at death's door sick. He's been driving me crazy *and scaring me half to death* for 28 years.
My sweet little poodle puppy has an appetite for destruction. She will chew and shred anything she can get her teeth on. Keeping the mess cleaned up is a constant battle. Keeping her from chewing important things is a bit of a losing battle. She will dig and pull at carpets and rugs until she gets a fiber pulled out and then she goes to town. All of my area/throw rugs have "snags." She chewed the base of the Malibu pilates chair to the point that if I want to sell it I'm not going to get much. I just caught her chewing a corner of the storage ottoman I use for a coffee table. She's chewed chair legs, garbage, shoes, purses, stuff in purses, puzzles, books, magazines, and the other dog.
She's well equipped with DOUBLE fangs!
Tim isn't working tomorrow so we'll be bringing the boxes in from the shed and packing up Christmas for another year. I'm ready to put the house back together for the winter months of hibernation....which means the living room seating needs to be set up for optimal TV watching and curling up with a good book. Once that's done we may start working on our bedroom. 18 1/2 years we've lived in this house and we've done nothing to our bedroom....
AND IT SHOWS!
I can't take it any more.
Megan keeps plugging along. She is seeing a lot less of Cody, but they do still talk and get together a little. She's been going tanning and to the gym, which makes her feel better about herself. Now, if we could only find her a job. That would do more for her than anything, I think. Well, that and some new friends. She and Cody were no sooner officially broken up when someone she used to know, but hasn't spoken to in a couple of years started telling people vicious lies about her. She ran damage control and I guess everything is okay, though she had it out with that kid.
The baby boom in Tim's family continues. We found out yesterday that we're going to be a great-aunt/uncle again. Our oldest nephew and his wife are expecting their third child in August. That will make 5 babies in a year and a half! We Artis's are good breeders. Tim's mom had 7 children in about 10 years. They had 9 grandchildren in 10 years (and that is with 3 of them never having kids!). So far there are 9 great-grands in about 6 years.
I'm doing okay with the "Intentional" thing, I guess. I've been sticking to starting the day with reading the Bible, eating a small, healthy breakfast and taking a healthy snack to work to get me through the morning. I'm doing better about blogging, but still getting stuck for longer than I want on Facebook. I'm making the effort to do things. It'll get there....it takes what? 21 days? for something to become a habit?
Now, moving on to....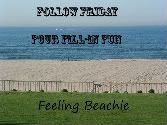 Each week, Hillary lists four statements with a blank for us to fill in on your own blogs. If you want to join the fun and come up with four fill in's of your own, please email them to Hilary(at)feelingbeachie(dot)com. If she uses them, she will add you as co-host to the hop! This week's co-host is Ali from the daughter-in-law diaries – she came up with the last statement!
She would

LOVE

it if you could please help spread the word about this hop…. So, please

tweet,

FaceBook share

, and

add the linky

to your post…
1. Every time I see a ____ I oh an ah…
~ Every time I see a

Ford Mustang

I oh and ah.
2. I don't have a ___ bone in my body.
~ I don't have a

graceful

bone in my body...I trip over my own two feet.
3. I like ___ on my burgers.
~ I like

lettuce, tomato, cheese, and ketchup

on my burgers.
4. If I had one more hour in the day I would _________
~ If I had one more hour in the day I would
probably spend it online or reading a book.
Well, that's it for the Friday fun around here. Please come back tomorrow if you can. I'm going to try and get back to posting my Saturday Shares.