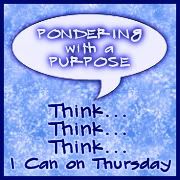 Time's a tricky thing....especially if you study it scientifically or are a
Big Bang Theory
kind of geek and totally into the whole space-time continuum thing where you can travel into the future to when time travel has been invented so you can travel back in time to warn yourself not to do what you're about to do. Do you follow?
I personally struggle with time. There's never enough of it when I'm getting ready to go somewhere (I am always late) or when I am doing something fun (vacations are over in the blink of an eye). Yet, excruciatingly dull things (parent teacher conferences and tee ball games for example), unpleasant things (family feuds and lip waxings), and the truly tragic things (illness, death, crime...) seem to have unlimited accounts at the time bank.
And yes, Brenda, I do believe time speeds up as we get older. It seems the more aware I am becoming of just how short life is, the faster it goes by! How unfair is that? On the fair side, however, it does seem that with my awareness of the passing of time I gain a lot of perspective on what things really matter and what things I should let go of. But on the unfair side is still feeling like the 18-year-old I was 30 years ago on the inside, only to look in a mirror and see that on the outside I'm definitely 48.
Kenny Chesney said it well: