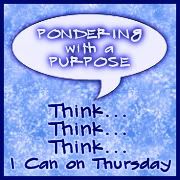 Brenda's the hostess with the most-est over on
her blog
, where each Thursday she invites us to do a little purposeful pondering with her. It's pretty simple, Brenda gives us a topic each week, and we do what we want with it on our own blogs, then link back to Brenda's. Hop on over if you'd like to join in or if you just want to check out all the great pondering going on.
This week Brenda's asking us to expound on
Involvement
. I was wondering where she was going with that. Community involvement? Church involvement? Sports involvement? Getting involved when a stranger needs help? Uh, no. Those would be too easy. Brenda likes to rattle the cage a little bit. She's talking about involvement in the life of our grown children and where is the line drawn between okay and too much.
**You should probably look elsewhere for your advice on this subject, because I am apparently completely clueless or just plain stupid about it. You've been warned.**
My oldest left home right after high school graduation to attend a technical school in the local big city. He's never been back other than visits. We tried to give him some space to be an adult and not micro-manage everything. He made some serious mistakes and we were unaware until it was too late because it reached a point where he rarely answered his phone. It's been said at some point that I (not we, as in my husband is a part of it, just me) abandoned him.
He met his wife while he was there and when he left school he moved in with her family. We expressed a few thoughts, but not too many. Again, we didn't agree with his choices (not about her as I think she assumed but about the living together without marriage), but he was an adult so what can you do. I bent over backward to try and include his wife in family stuff and to try and do things to make her feel welcome (asking what she'd like to eat because she is/was a vegetarian, etc.). When they needed help, we were there, but never told them how to live. My daughter-in-law hasn't liked me from the beginning and I tried to respect that. It didn't do any good. I've (again, just me) been told I'm uncaring, fake, manipulative, and a lot of other things.
With my oldest it appears to be a case of being damned if I do and damned if I don't. If I try to be involved it's meddling. If I take the hands-off approach I'm cold, heartless and....well, you get the picture. Maybe it's a good thing that we aren't talking these days. His choice, not mine. I hate that we don't see the grandkids and yes, I hate that it seems I've lost my child, but I hope and pray that he will come around one day and realize I'm not the evil person he seems to think I am. I send him a text every now and then to tell him I love him and I pray for him (and his wife and kids) every day.
Now, on the other hand, there is our 20-year-old daughter. She still lives at home and the way I was raised that means I still have a say in what goes on here. Outside the house she is her own person and can do what she pleases, but within the walls of this house, my rules go. She, of course, disagrees with that, but what newly minted adult still living at home wouldn't? She wants it all and will argue with me that my rules are stupid. Maybe so, but this is still
my
home and therefore, my rules are law. We butt heads a good bit, but we also talk, so I know we'll be okay. I've talked to her about the parental involvement thing and promised I won't be there with my nose in things telling her what to do. She has promised she will never cut me out of her life and has already warned me that when she has kids I am the designated babysitter and can have them all I want. Yea!
As for me and my mom.....I love her and I'd never cut her out of my life, but she is very judgemental and very vocal about it. I couldn't tell you the last time any of us did anything right. Sometimes I think she just isn't all that happy in her life and it makes her bitter. She says terrible things about people she doesn't even know, not just us. I have built in radar for things that she will not like and do my best to avoid them or keep them from her to maintain some kind of peace. It can be wearing. VERY wearing.
So, there you go. My messed up, screwed up involvements. Don't say I didn't warn you.