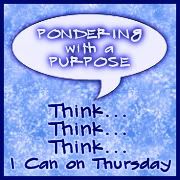 It's Thursday so today I'm joining
Brenda
and the others for the weekly blog hop with a purpose and that purpose would be.....pondering! Brenda gives a prompt and participants ponder on it in any way they choose.
This week's prompt:
handle
Hmmm.....let me get a handle on this handle thing. Well, there you go, right off the bat, there's one way to look at "handle." Getting a handle on something, unless you are very literal and are actually screwing a handle onto something, means to acquire an understanding or knowledge of something.
I kind of gave away another meaning of "handle" up there. A handle is a part of a thing specifically made to be held in a hand.
Watch a rerun of Smokey and the Bandit and you'll quickly be reminded that back in the 70s, everybody wanted to know "What's your handle?" If you don't remember the 70s and the CB radio craze, your
"handle" was the name you went by on the radio. Confession time....mine was Bubblegum. I was 12 so keep your comments on the total lameness of that to yourself.
You can "handle" something in more ways than one. The first way is to have touch, feel, pick up or carry with your hands. The second way to "handle" something is to deal with or manage it.
But being the music lover that I am, I have to say this was the first thing that popped into my mind when I read the prompt was "handle."