Unknown Source
I'm getting around to pondering a little on the late side today. Had to make a Walmart run to get Valentines' Day treats for the kids on the bus. Yeah, *blushing* I'm like that......pump 'em full of sugar and send 'em home! Ha, ha. Give them caffeine and sugar for breakfast then stick them on the bus, will you?
What?! I'm not really that mean. Well, the secondary kids get their treats on the bus, so I guess they are kind of sugared up when they get off the bus, but a lot of them have been chugging coffee, cola, and energy drinks all day so I doubt I do much damage there. As for the little ones, they get their treats as they are getting off the bus. That way it's up to Mom and Dad whether they can eat it then or not (plus it keeps the garbage off the bus floor!).
Oh, I got Valentines' Day stuff for the family, too. The newest Bond DVD for Tim.
A Duck Dynasty book for Megan (that I'm going to read when she is done with it).
Red Velvet cupcakes for Mom and her husband.
Megan and I are cooking dinner tonight...steaks (they've been marinating since last night) and fried potatoes and onions.
Well, now that you're probably hungry, let's get to the point of today's post...
Pondering with a Purpose
brought to you courtesy of
Brenda
. Just click below on the pretty blue button to visit Brenda and the
Pondering
home.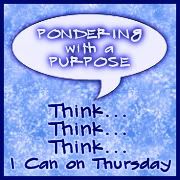 This week Ms. Brenda is asking us to expound on: LIVE
To get started, I guess I'd first have to decide what I hear when I read the word. Do I hear the word with a long i or a short i?
Now I like a good concert or live show as much as anyone, maybe more than some...especially if it happens to be the concert of one Toby Keith (I go to his show EVERY year).
Yes, this was taken from my seat...
front row, center. I could have reached
out and touched the man if the nice
security guard standing right beside me
wouldn't have tackled me. LOL
But that meaning of "live" isn't the one I thought of first. No, I thought of it with the short i first. I think that might have something to do with my One Word theme word for the year...intentional. To me living is being intentional and if you're being intentional, then you're living.
I think of living two ways. The first is embracing what comes your way in life and making the most of it...good and bad. I guess that would be kind of a when-life-hands-you-lemons-make-lemonade philosophy. The other way I view living is to make things happen. It's not sitting around waiting for life to hand you the lemons, it's planting the seeds, tending the plants, and picking the fruits yourself.